guh i can't believe how long it's been since i've writen!!!! i'm mad at myself????

a lot of crazy stuff has happened! and at the pace i'm going, i won't remember any of it by the time i get home?!!!

so i'm making a resolution to myself to try to write more often in my journal ...and not just when i'm hung over awake at 6 and can't sleep!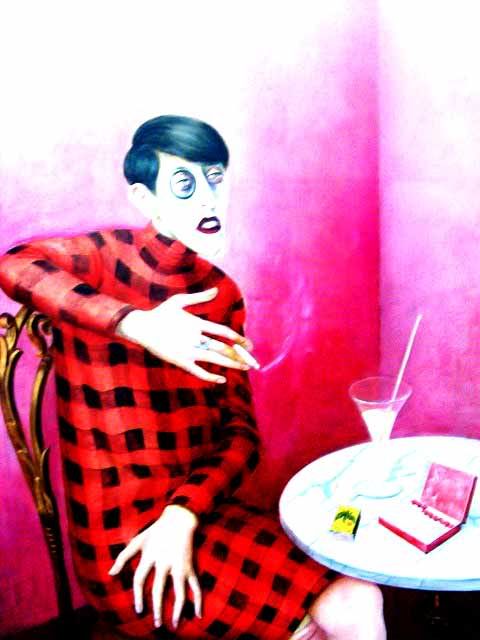 Paris (a.k.a. Auschwitz)
guh super old news...and i'm sure nobody cares by now?!! lol...cuz i'm sure i dont!!!!

So...i spent 8 days in Paris and had a mixture of both:
Highlights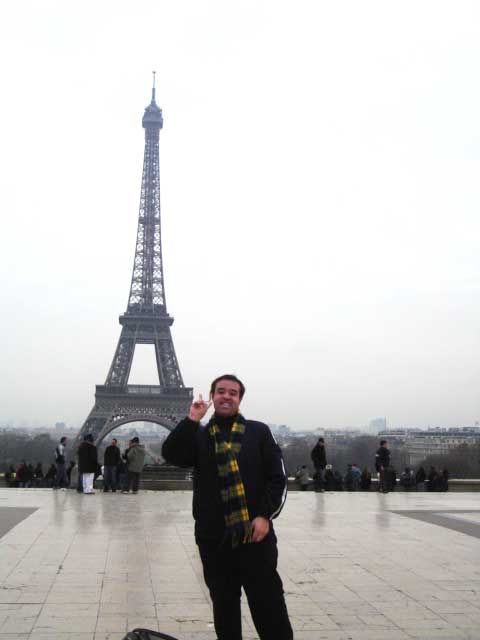 1. hooray for finally seeing the eiffel tower! it was cute! i was here with lisa at the Trocadero, which is an amazing high point in the city that overlooks the eiffel tower and other places? it's really nice?!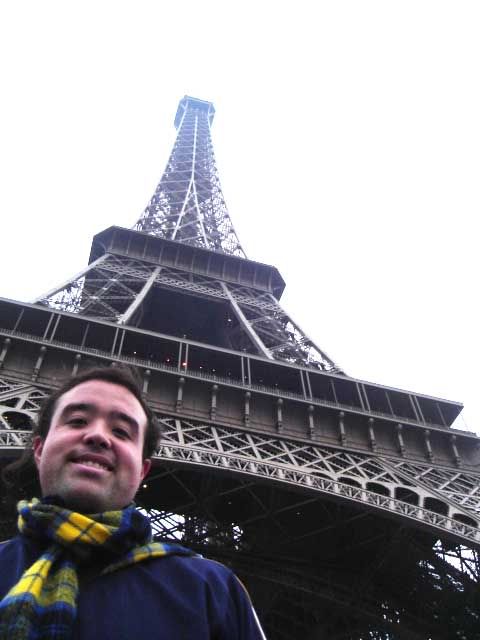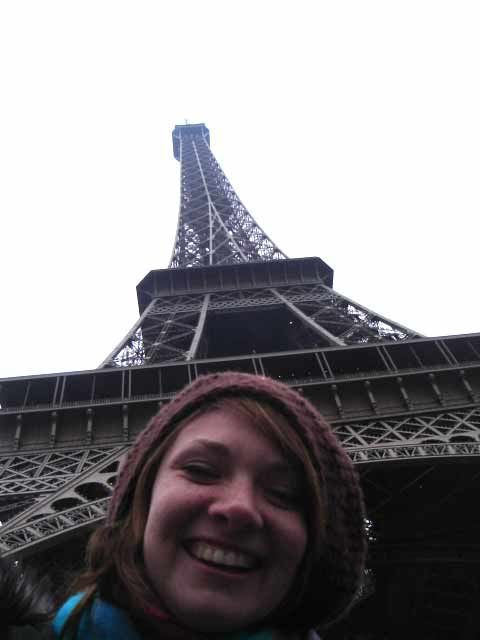 2. here are me and lisa underneath the eiffel tower!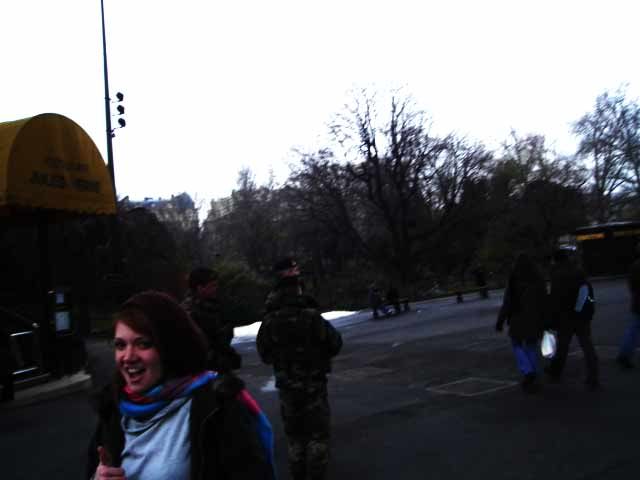 3. Seeing hot french millitary men with huge guns? and trying (unsuccessfully) to catch a picture of them?!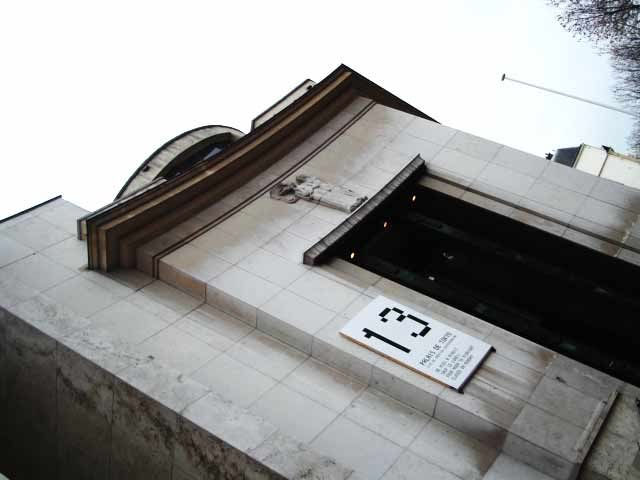 4. OMG finally seeing the Palais de Tokyo!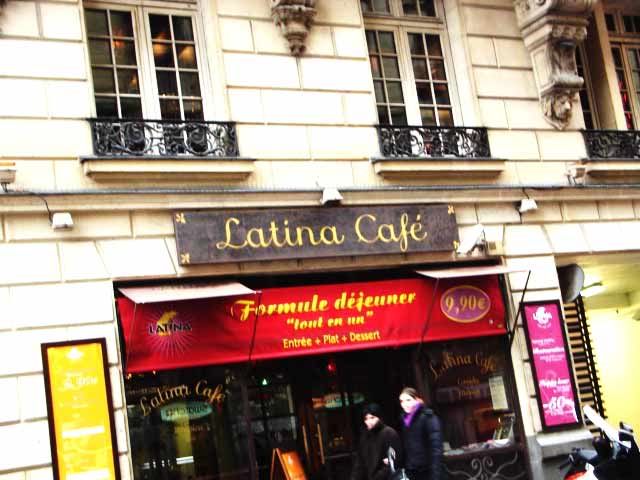 5. enough said!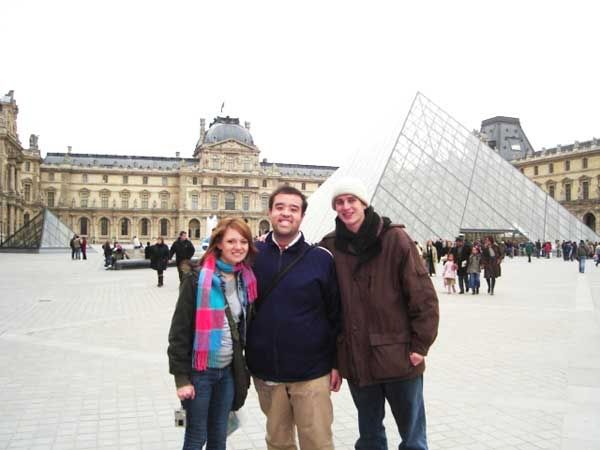 6. the louvre!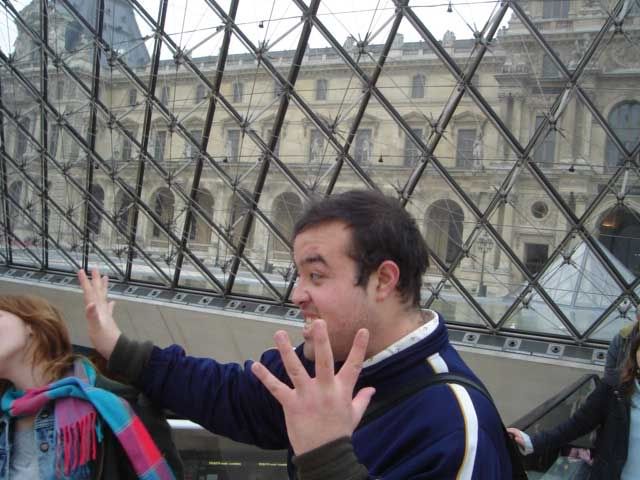 7. but even better, slapping Lisa at the Louvre!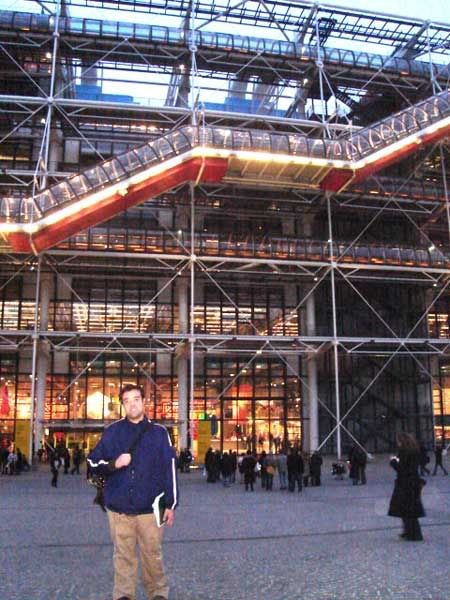 8. seeing the DADA exhibition and the Big Bang exhibition at the Centre Pompidou!!!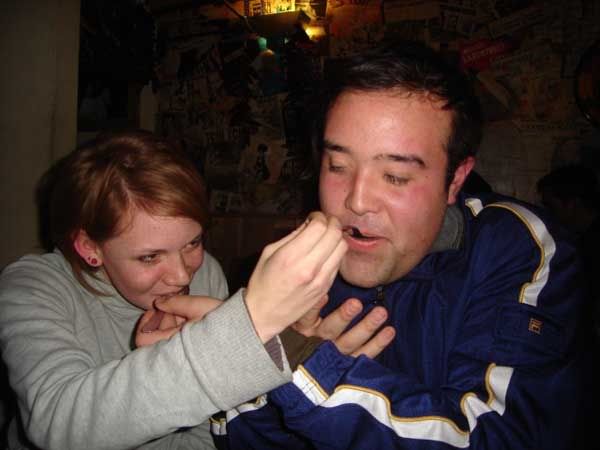 9. going out for a super good authentic french meal with jeremy and lisa, and finishing it off with a Creme Brulee (my first!) honeymoon-style with Lisa!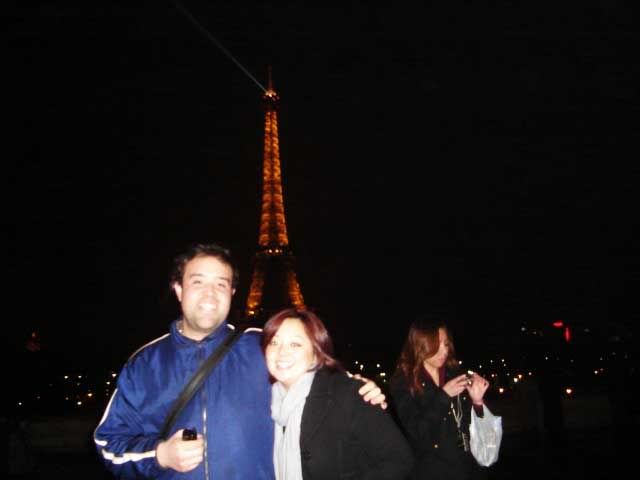 10. Going out on Christmas eve to the Trocadero and getting super drunk, that and seeing the Eiffel tower light up right at midnight...and causing a clapping pandemonium?! and laughing!

oh and that's Donna and her friend Linda! Linda came from CA to visit Donna..and donna and her met up with us in Paris...and guh they were staying in the lap of luxury in this amazing hotel while (as you will read later?) Lisa, Jeremy and I stayed at an Auschwitz -inspired hostel?!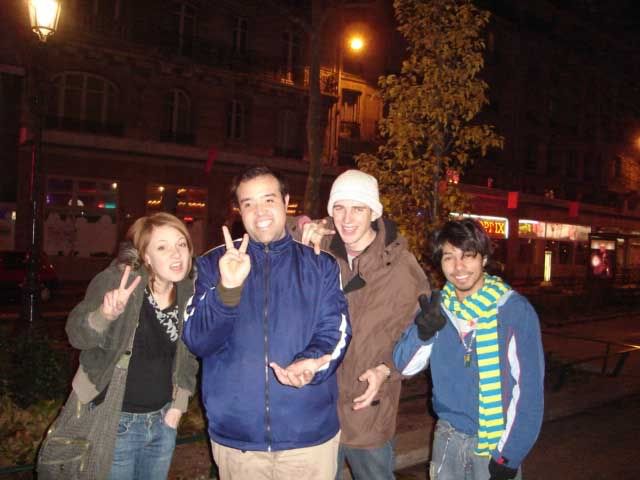 11. Meeting Elliot at our hostel, a super nice guy from Mexico City and hanging out with him?! and bumping into him in the oddest places? and not being surprised?...and omg, so he tried to go visit his cousin in London, and the immigration office told him that it appeared to them that he didn't have enough money to return to Mexico, and that he might try to just go to London to live there?? omg...that's mean right??? so he ended up having to get a job at the hostel!!! and too bad when he told us, that didn't surprise us either? oh and that's us in the red light district!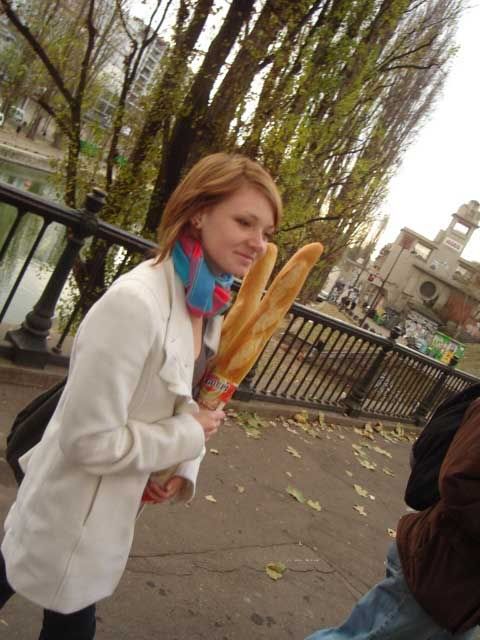 12. Preparing an amazing Christmas feast at Jeremy's "friend" Heather's dorm (jeremy met her while in Amsterdam!)...and by preparing the fest i mean that Lisa, Jeremy, and I bought the food in the morning, and then Jeremy and Heather cooked everything!! omg it was a French inspired vegetarian Christmas extravaganza!!! with camembert cheese! and wine! and pasta! and super good bread! the bread lisa is carrying! omg and little cakes!!!

oh and we saw Narnia in Paris, in English! omg the boy from the movie, the oldest kid, is super hot?! am i a pedophile?!...

don't answer that...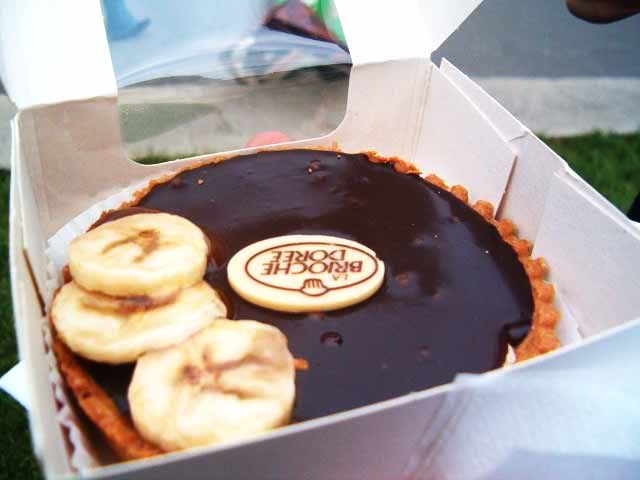 13. guh one of the FEW redeeming things about Paris was their AMAZING food....the pastries, such as this SUPER good dark chocolate and banana tart were to die for! the BEST chocolate i have ever tasted in my life!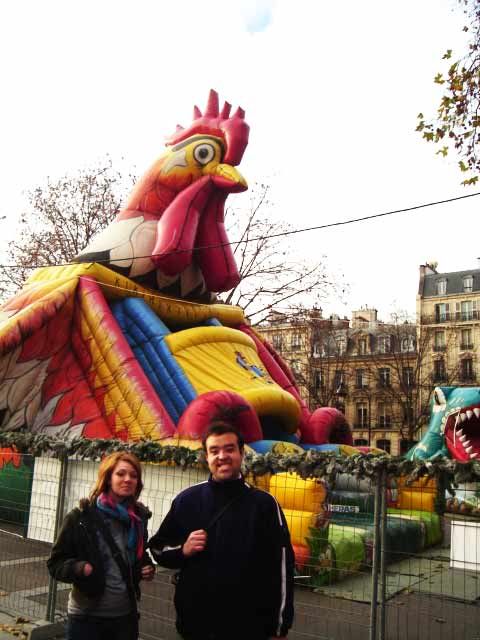 14. omg seeing this huge chicken bouncer!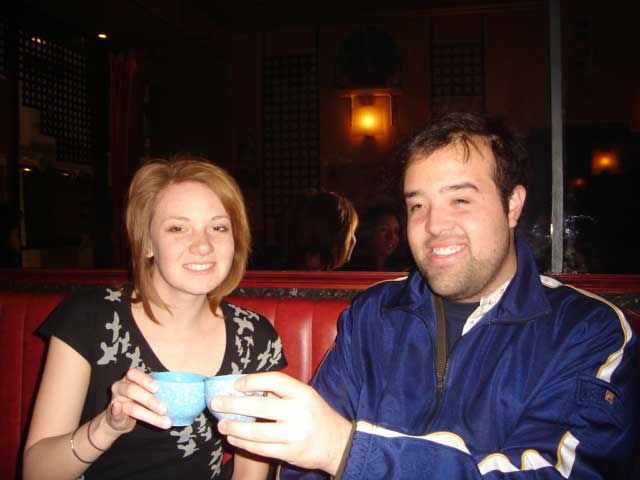 15. eating super good japanese food (finally!!!! i've SUPER SUPER SUPER SUPER SUPER SUPER SUPER SUPER missed Japanese food!!!)...and also eating green tea ice cream!!!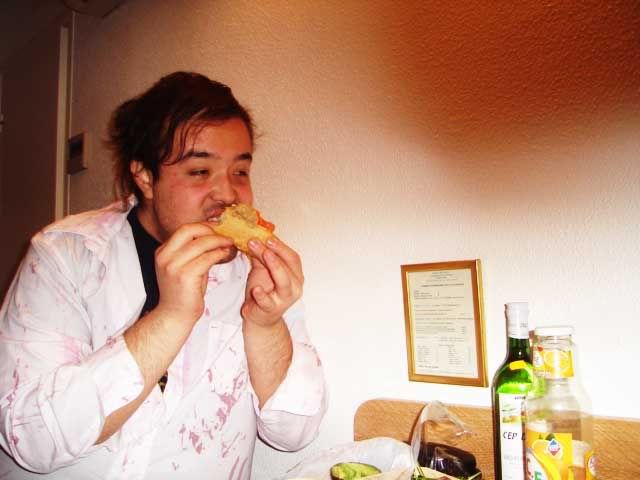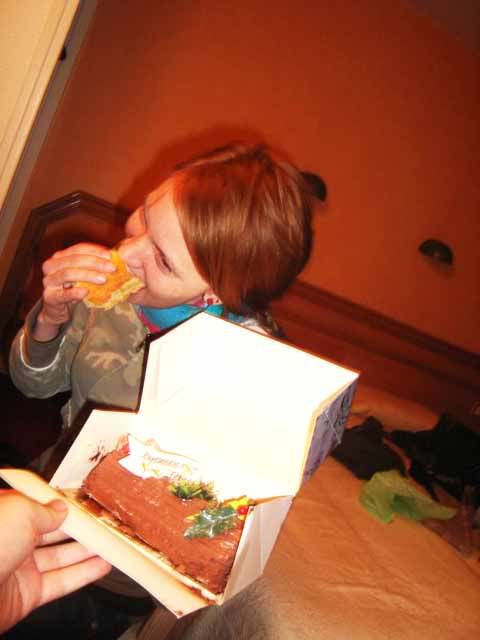 16. Finally moving the FUCK out of the peace and love hostel and staying one AMAZING night in Donna's hotel...and omg, you do NOT know how great it felt to sleep on a comfortable bed, take a shower in an actually bathroom....and just RELAX! ...here we are eating this amazing sandwich feast we made! since of course, there was a super cute/cheap french market right next to the hotel! and also, when you've been given bread and water rations, you also appreciate good food! ...oh and that's the cake we had bought for Christmas! but since we were all full that day, Lisa and I decided to take it to gorge on ourselves later! ;)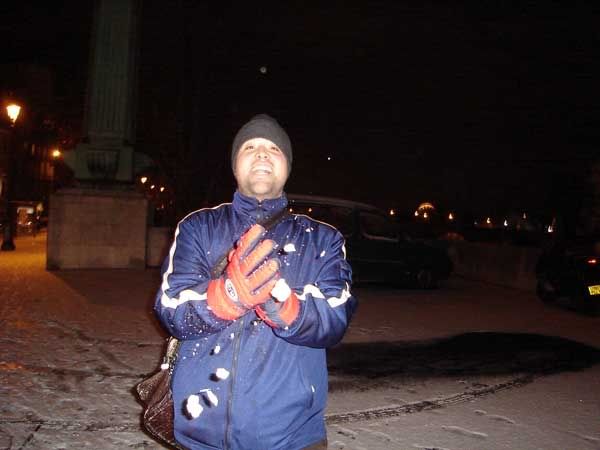 17. sneaking into the Musee D'Orsay for free! and running around it! and then playing with snow afterward for the first time ever!

and then later creating a Heather-snowman!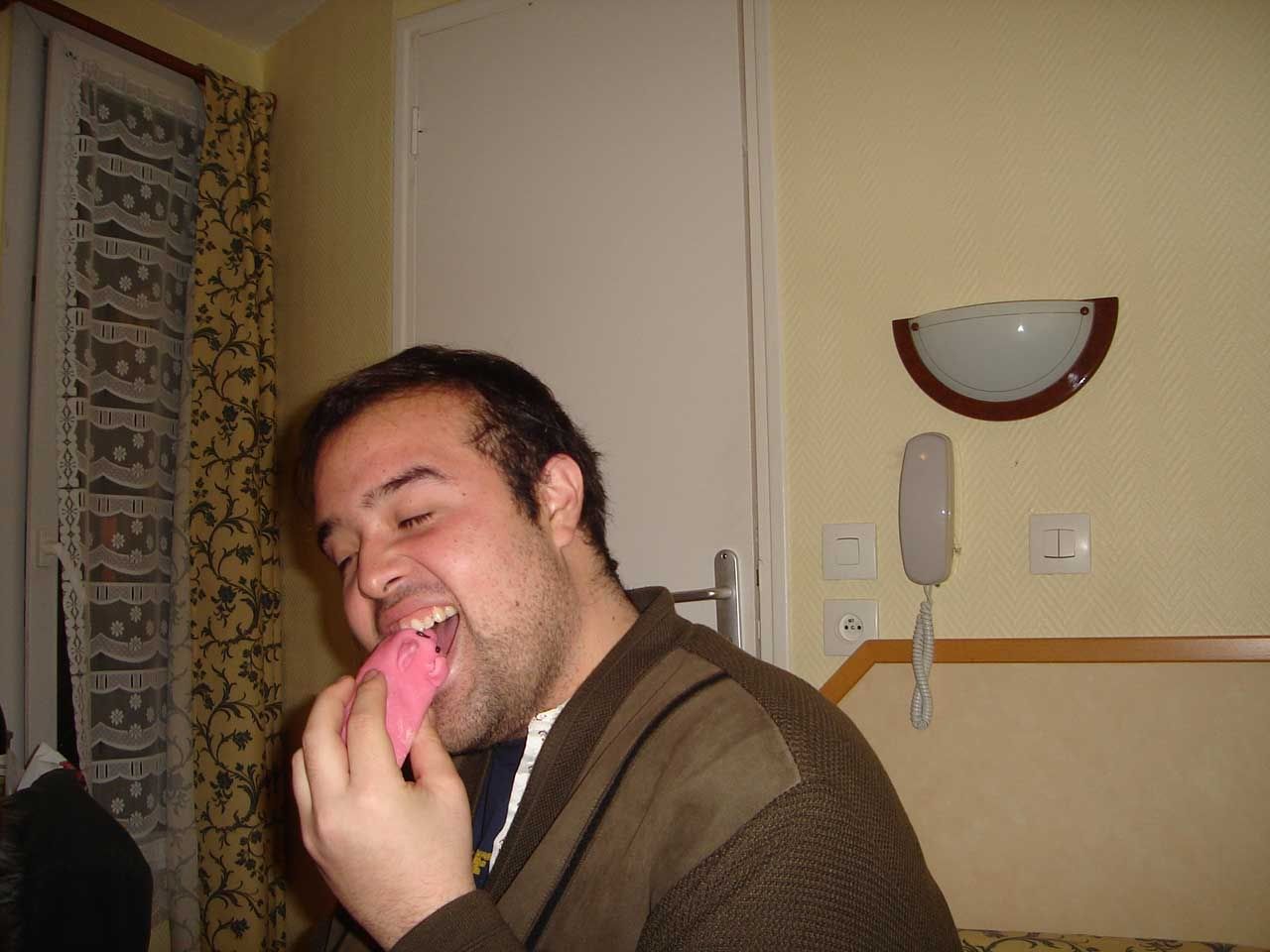 18. then the highlight of the trip, for one, was me eating this amazing marzipan pig! and then....after having moved out of the luxurious hotel and sneaking me into a nearby hotel (and realizing that we were scavengers/ninjas!), Lisa and I had an AMAZING night out in Paris!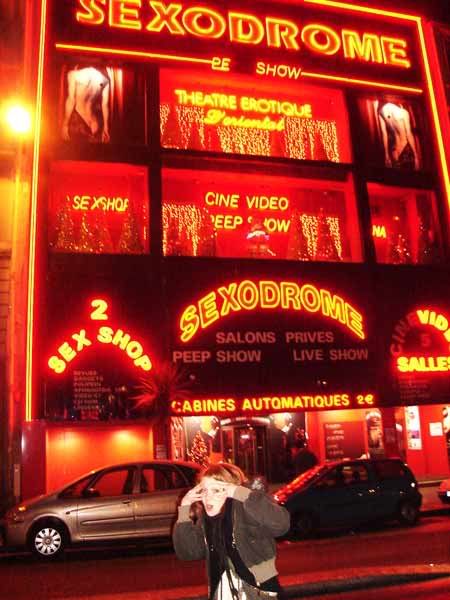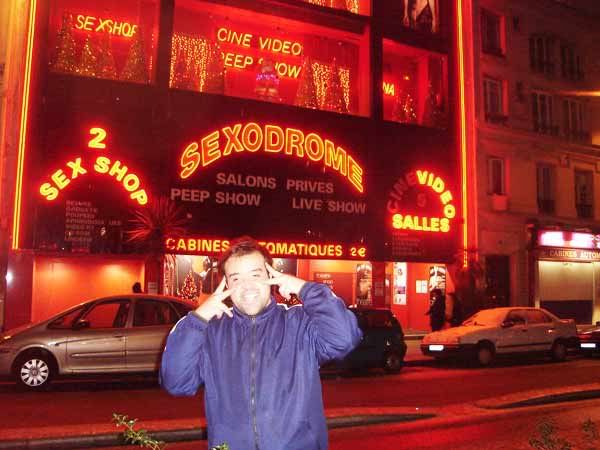 19. which of course started out with us pretending to be prositutes in the red light district! and actually getting offers?!!! and then being invited to have a 3-some after having asked about poppers at a sex shop?! ....and then begging people to let us know where we could see "homme avec homme!"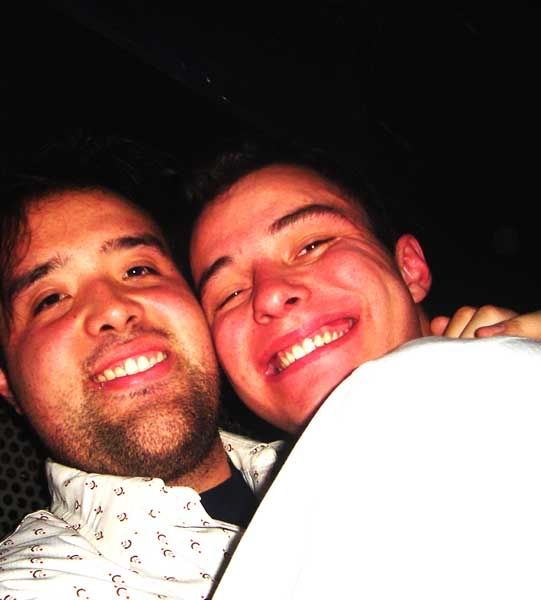 20. And then improving Franco-American relations that night!

so..yea, Paris was nice. i was a bit dissapointed by it though...but i am thinking that it probably stems from the fact that I had such huge expectations for it....and so of course it was easy for me to be let down...

but speaking of which:

highlights i didnt like!
1. guh getting to Paris, super tired, disoriented? but excited after my amazing trip to Berlin only to get mugged/rob off 60 euros by a dirty Parisian Arab!!! eew no wonder the french hate them?!! (sorry no pics? but i could just put in another pictures of hammam and you'll get the picture!! lol..jk???)

2. Then i get to the Peace and Love hostel and realize it's full of lame 18 year old straight white-trash americans?!!! and they're all drinking downstairs?!

3. and i dont know where lisa is?! and think she has been robbed and taken by an arab to a haram in Morrocco???

and i'm jealous?!

but scared?!

4. guh and the peace and love hostel had like a 30 floor climb, and the stairs were dirty with feces stains?!!! (sorry again no pictures!)

5. and omg, why was the shower a super small little hole in the wall with a SEE-THROUGH glass right next to the bed?!!! so like, if you were lying in bed, you could potentially just reach over and help the person in the shower srub the back! (which i unsusccessfully tried to do with Jeremy?!)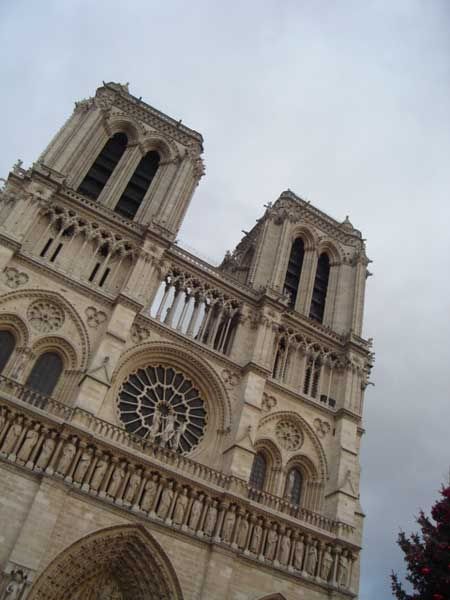 6. being dissapointed by the nortre dam...i was hoping to find quasimoto or at least be offered the role?! but neither happened!

omg that reminds me...when i was in jr. high, there used to be this girl that everyone would call quasimoto! and she was like a little retarded i think? and she'd get MAD...and i remember she'd always tell people to shut up and throw stuff at them?!

and too bad by this girl i mean that was an autobiographical statement...

7. eew the subway always smelled like shit?!

8. getting in a fight with this american girl...that Lisa started! and i finished!!

wait i think that was a highlight i liked?!

9. spending like $80 on cell phone calls!?



guh okay enough about Paris!!

so afterward, we all returned to London for New Years...

London New Years (a.k.a. guh can i go home now?!)

it was real funny cuz we were all SO tired of travelling....Lisa had gone to Dublin, Jeremy to Amsterdam, and I had gone to Berlin...and we were all just travelled out....and pretty tired when we got to London...

but we managed to enjoy ourselves regardless...

We pretty much spent the days wandering around London! I introduced everyone to the wonders of the Maoz phenomenon! ....went to the Tate and just wandered around the art...

oh and Lisa, Jeremy, and I discovered this AMAZING independent store that sells books, dvds, CDs for SUPER cheap! especially British ones...

and then we went to Wagamama's...which is a Japanese noodle bar! and it was super good

but of course, the highlight of this time was New Years...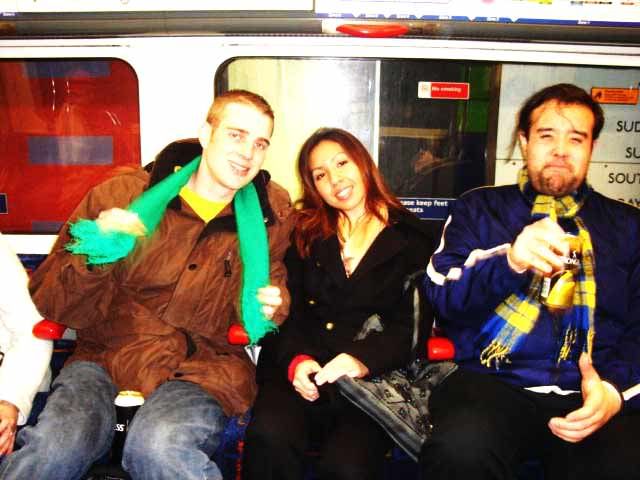 and of course it started with us drinking on the tube (since it's legal!)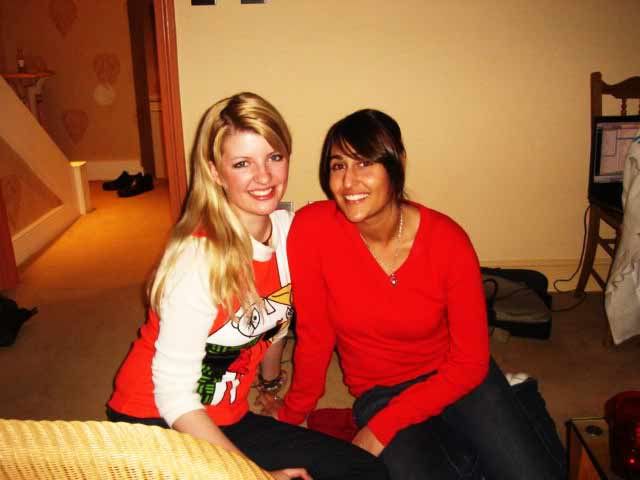 and going over to Jeremy's friend's rented out flat....and okay, so you think...these crazy bitches are in London...on New Years, and they fucking rent a flat....so of course you think: "OMG the party is gonna be off da chain right?!!">>>>

well it wasnt...they were just listening music (that they had downloaded LEGALLY?! EEW?!) on their laptops?! ...

so we were a bit dissapointed?...and by a bit dissapointed i mean i was angry! and did a few things i kinda (but kinda don't) regret...



but...here I am with the beautiful Linda...and at the top left is one of the girl's friends...he was cute!!! Lisa and I called him "well if i have too..." since we liked the other girl's boyfriend better? but but knew it'd be hard to separate them...so thought; "well okay, we'll settle for him?"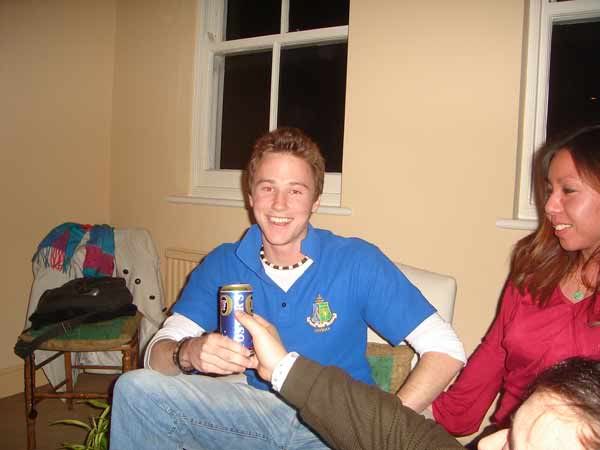 and omg they were all australian??? and here I am trying to grab the guy's "fosters" ;-)

omg as the night went on the guy got more and more afraid of me!! ahahahahahah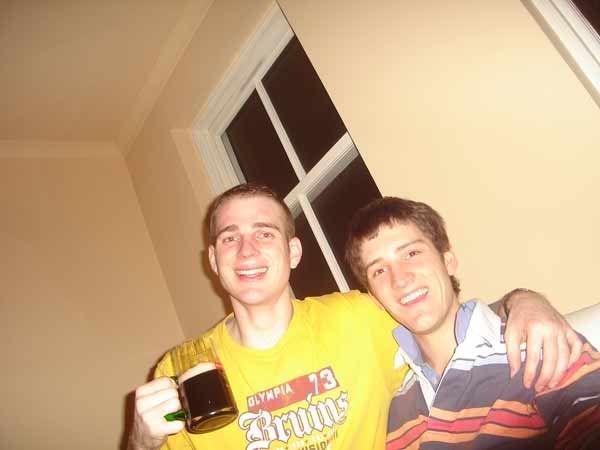 here's jeremy and the other guy who we liked...eew he's not photogenic (not jeremy but the australian guy..he was much cuter in real life?!)

so...we head down to Big Ben! for New Years...and OMG........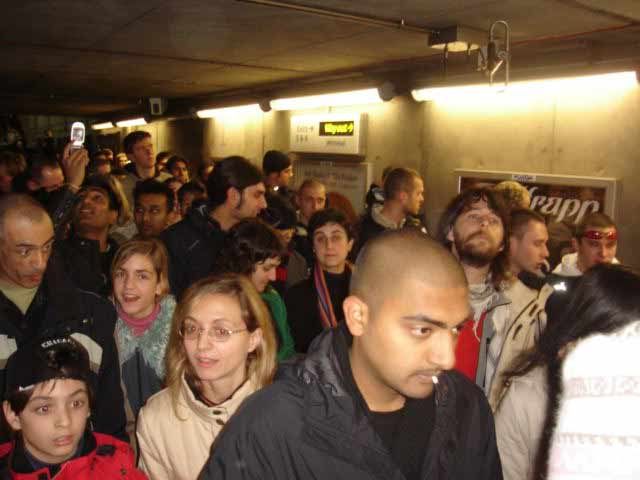 it took us like 10 minutes to get out of the subway...it was super packed....and then outside, there were TONS of people.....



craziest new years ever?!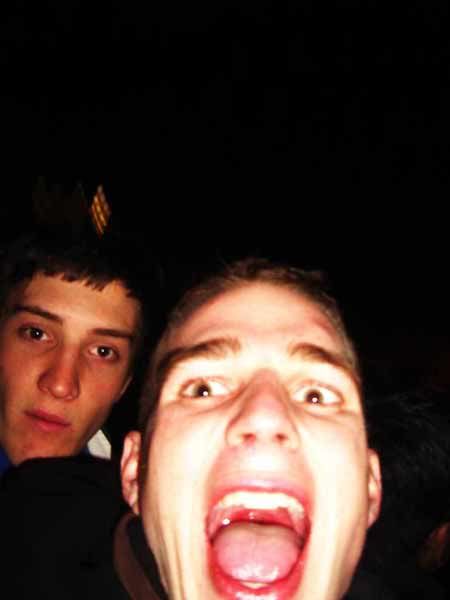 omg i have a video of jeremy screaming super loud! i wish i could somehow put it here to go along with this picture?!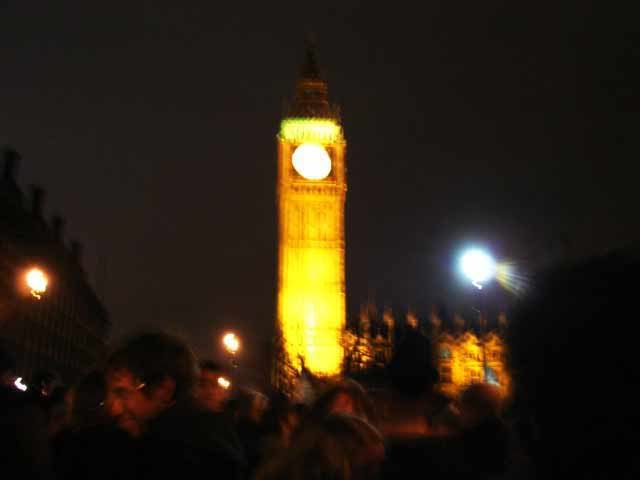 so midnight struck and we were on the wrong side...cuz they blew off all these fireworks from the London eye, but we were behind big ben...so we didn't see it! lol

but it was amazing anyway to hear big ben strike midnight! and hear the cheers and heckling (?) of thousands of people!

and so i went around wishing everyone a "happy new year"....forcing everyone to say it back to me??

and sicne i think lisa put the idea of me "having to kiss someone" for new years into my drunken mind...i ended up becomming SUPER flirty?! lol eew!

and at one point, grabbed a guy's ass?!! and he kicked me!! ahahahaha

that was a highlight of the trip!


so.....that's the end of that;:::: hmmm let's see other random things i've done while here in Leeds:::

Jean Genet gig at the Crow Squat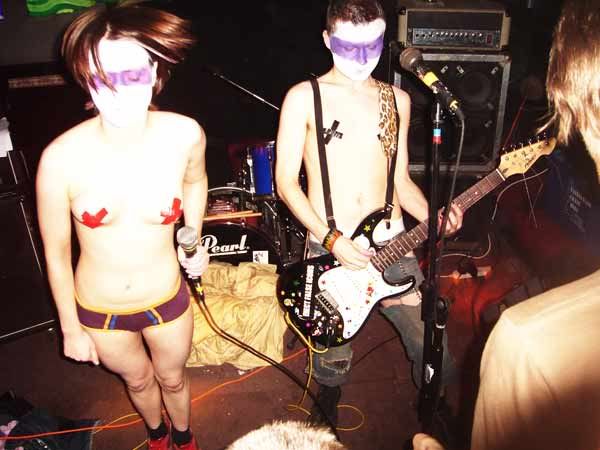 i finally got to see bob/helena's band, Jean Genet, play!!! and they were super good!!! bob was super drunk, and i remember going into the toilet and running into bob and helena, and bob having a wardrobe melt-down?!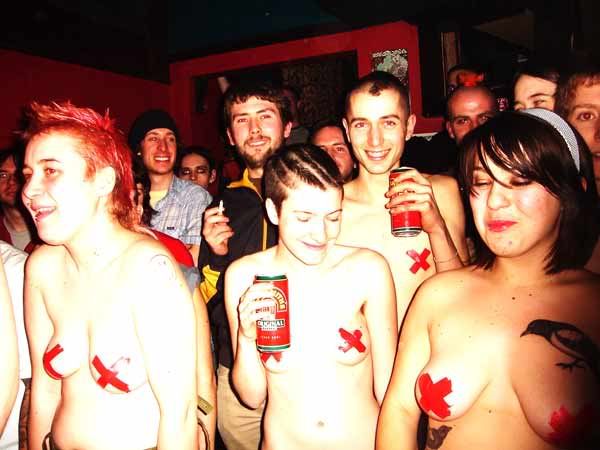 a lot of people wore tit-tape in honor of their band?! it was super cute!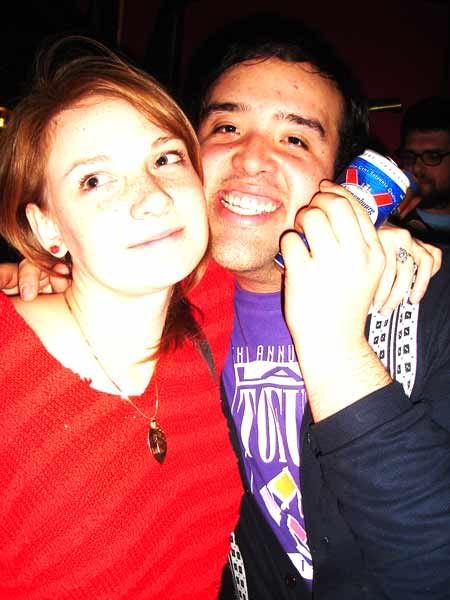 speaking of super cute?!

lol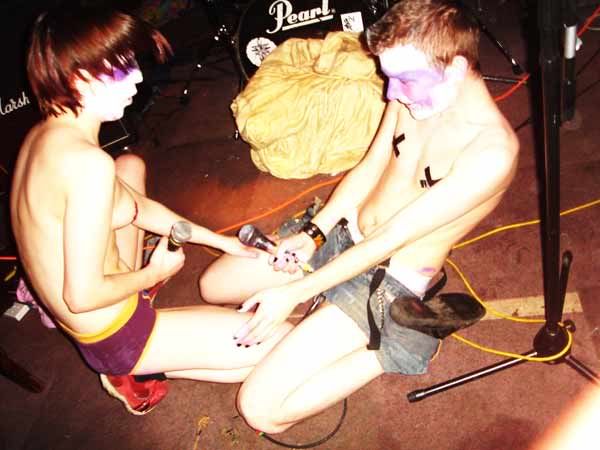 i can't wait to see them perform again next weekend!!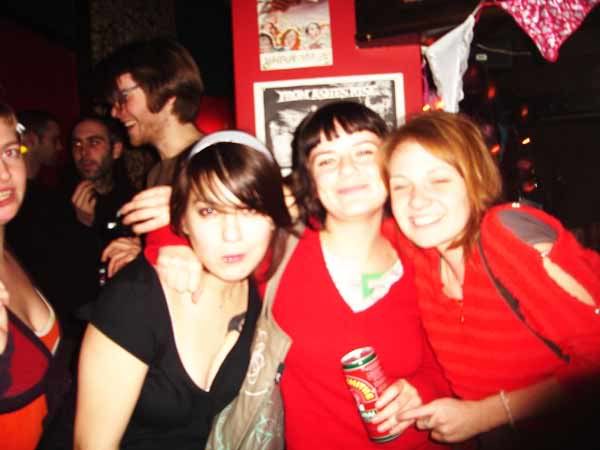 oh and here's a picture of Devon, i dont think i've had a pic of her up here before...but she's from UCSB studying english...here at Leeds Uni as well. And there's Trinity and Lisa!

Then there's

Liverpool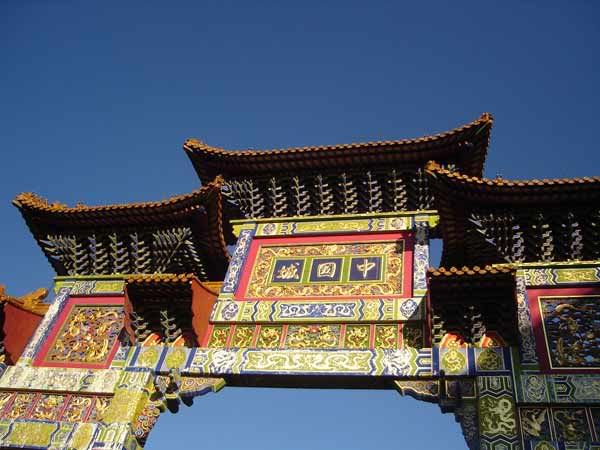 Susan and i decided to go to Liverpool to eat 'Chinese food...that and to go to the Tate Liverpool.

Their China town ended up being one STREET/!?? lol it was funny.

but the tate liverpool was really good...they had an exhibition on Contemporary Latin American artists...which was super good...!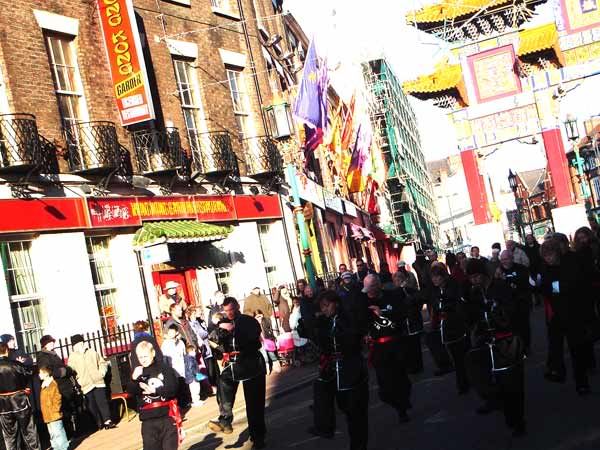 oh and there were some crazy old people doing Tai Chi out in China town!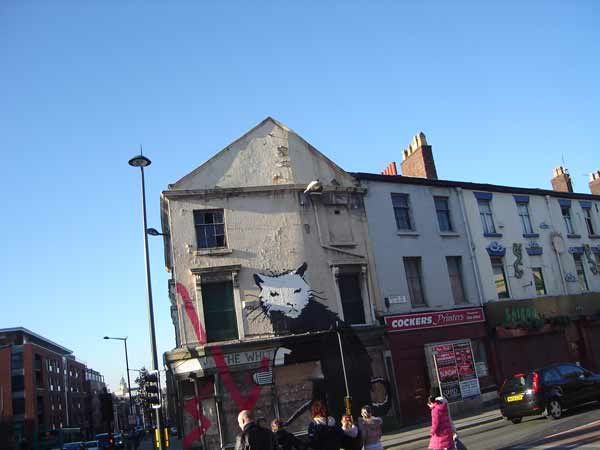 oh and look alicia, a Banksy in Liverpool! i still have to get you the one in London!!

Chinese New Year in Leeds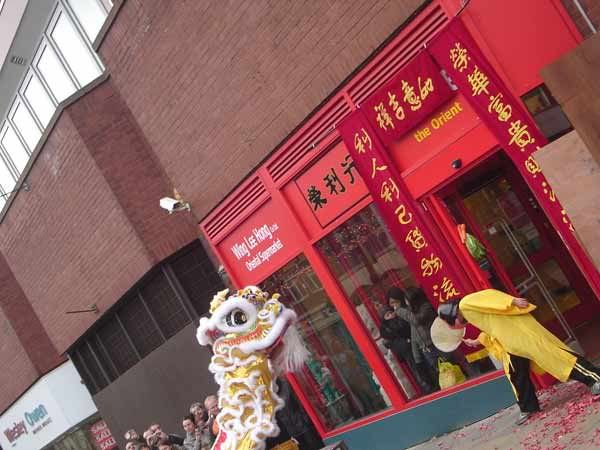 was cheappp...

Adult.!!! in London
Omg as most of you already know, i saw Adult. in london!! and they were SUPER SUPER good!!! even better than i ever imagined they'd be!!!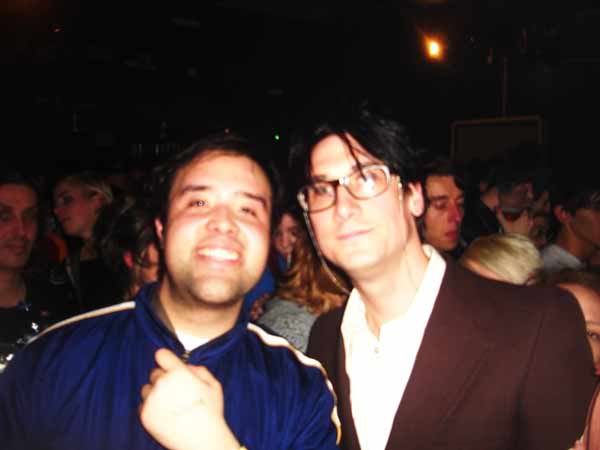 and of course i ran into Adam! and we took like 6 pictures together cuz my camera wasn't working!!! but he was SUPER nice!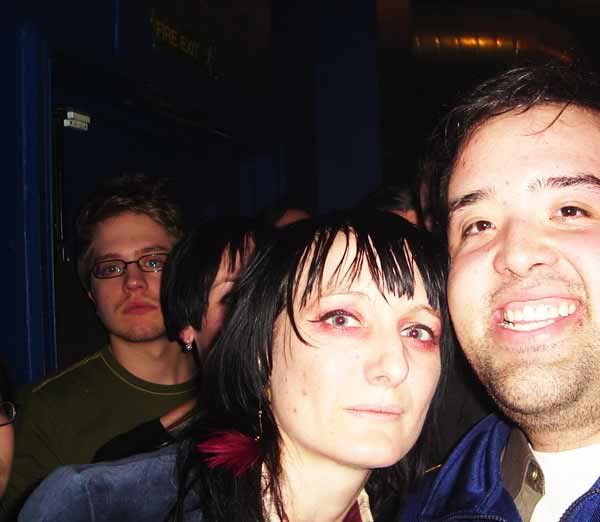 and then i ran into...NICOLA KUPERUS!!! my idol, my friend, my muse?!!! and she remembered me from when we used to exchange e-mails?!!! OMG!! see i wasn't lying!!! lol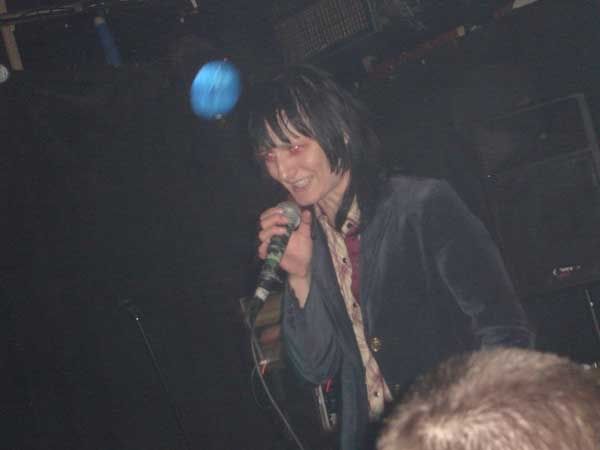 there was this like russian guy there w/ his friends who was super drunk;/high...and i saw that he wanted to sing w/ nicola, so i told him to go on stage...and omg, he did it! and nicola got scared and asked for someone to get him off the stage?!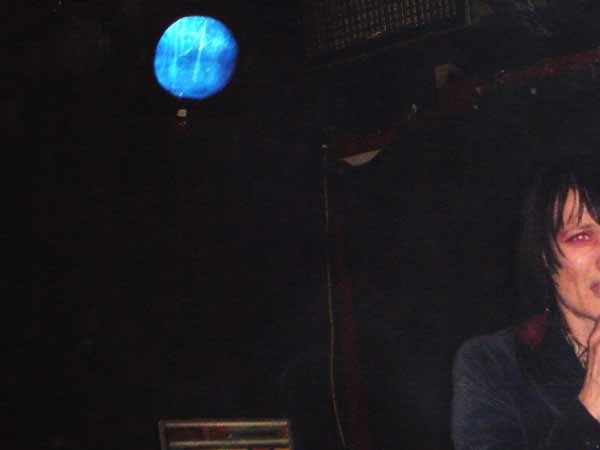 it was funny cuz at one point he was like: "OMG Nicola i want to fuck you!" and she said; "um..i'm married..." and he said; "oh it's okay i'm gay!"

omg???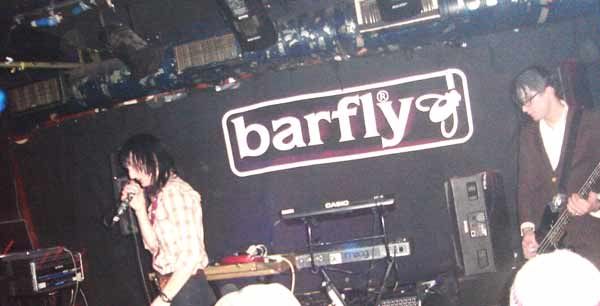 and since i'm sure it must be weird for Adult. to have to end a show at 11pm! at the end they were like: "Okay kiddies, time to go to bed now!"...lol. cuz too bad shows START at 11pm back home!

oh and they said at the beginning of the show: "It's good to be somewhere where we kind of understand people's english" lol

Crystal Yamantaka


so i go with susan, trinity, josh (a new guy from Texas who has come here to leeds this term to "study") to this rave called Crystal Yamantaka...and it was SUPER good...

i had missed my techno-electro?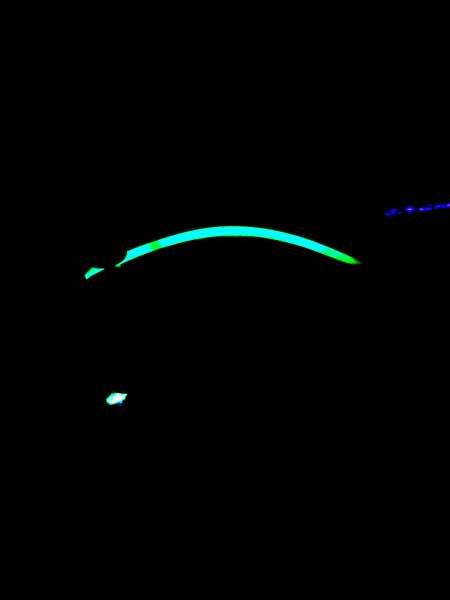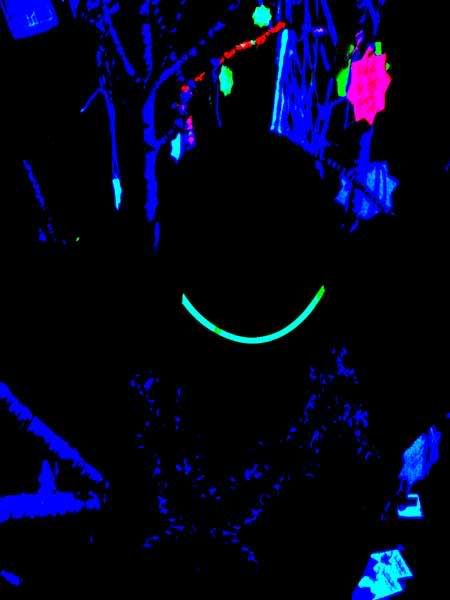 here are some glow stick portraits that susan and i took of each other! there was one of josh but it didn't come out at all?!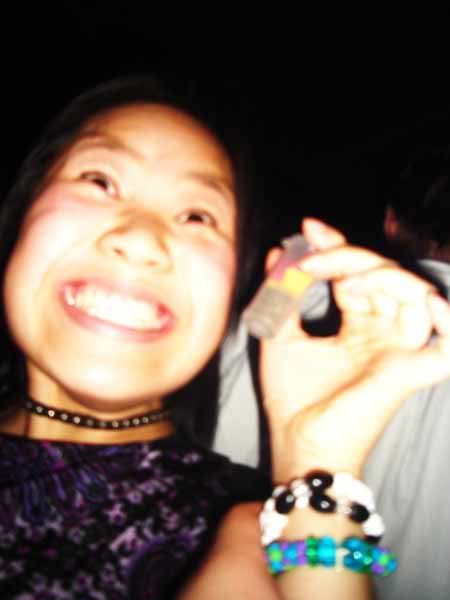 and here's susan holding up her...um......"friend" (Diana, you should know what this is!!)

Manchester
i went to manchester twice in these past two weeks...once to go to the British Art Festival...and then again with Susan to check it out again and eat some good food!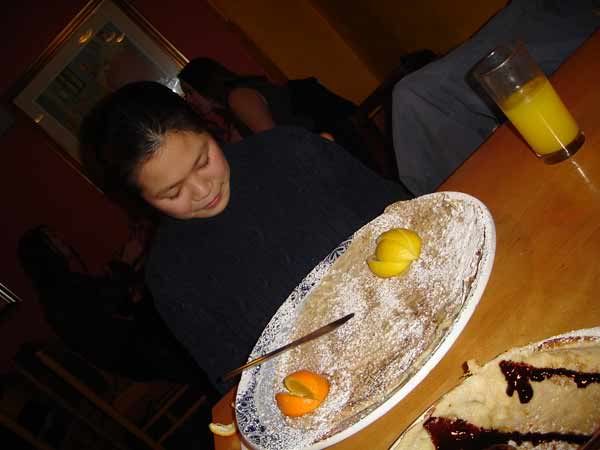 we got "Dutch pancakes"...which ended up being crepes but opened up and laid flat on a huge plate?!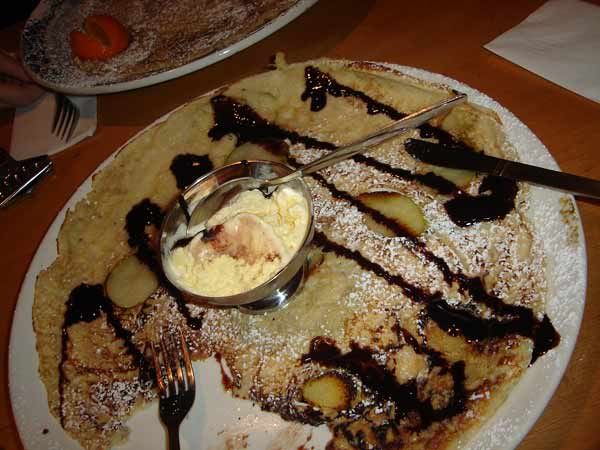 this was mine...it was pears/apples, ice cream and chocolate syrup..it was pretty good!

and so that's it for pictures...aside from everything else...i've:

injured my knee while dancing!

been making plans with Brian to travel!! omg yes!

been preparing for a workshop i am going to host at the Queer Gathering next week!! OMG!

been reading a LOT!

celebrated pancake day here in Leeds?! (OMG YES they have a holiday centred around eating pancakes?!!)...and an english friend asked me: "Oh do you have pancake day back home?" ahahaha omg...that made me laugh so hard?! i wish we did!! well we sholud right??? so everyone: March 31, 2007 will be the first Pancake Day in the USA!

saw Roseanne for the first time in FOREVER!!

have been watching simpsons/family guy/south park galore!

oh and I saw Jake Chapman speak at my university!

um....that's all i can remember, and i'm super tired and am going to make myself some breakfast! hopefully i don't take that long updating next time!!!