So how can I begin to encapsulate, recreate, and recount these past few weeks.....

i feel as if it's been a lifetime since i last wrote in my LJ properly, and since I have been able to sit here at my desk in my room, with the construction workers outside, and just write...and mess with pictures....

God....so much has happened....i've seen so much, spoken to so many people, eaten so much food, ....and missed so much as well. I have seen some of the most amazing artwork of my life! as well as some of the most amazing food...and hottest wo/men of my life!!

okay okay so let me start::::

Phase one of Journey: London 121005-121305

So, I meet up with Jeremy at his place, I get there kind of late ...at like 10 pm i think???

and that night, we are about to go be winos and drink wine outside near this super nice canal near his dorm (that has real live swans in it!) ...when all of the sudden, a british and an american girl (from San Fran!) bump into us and inivite us to a party. So...we go.
and it ends up being mainly americans who are studying in the UK....and they have some super NASTY tasting british beer....but i end up drinking it anyway...

it was pretty boring...the people there were weird...but not in a godo way????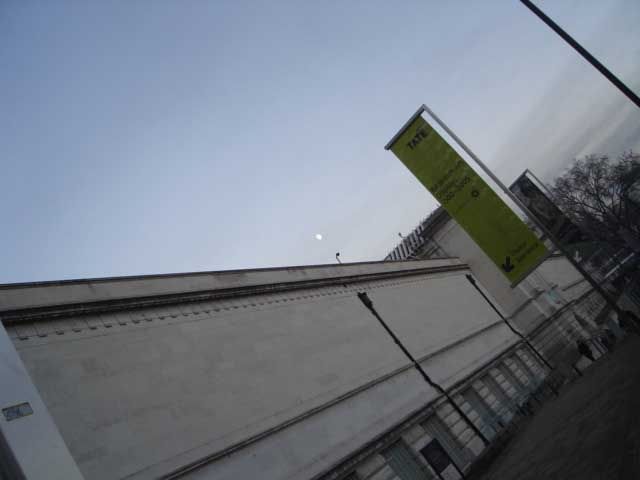 The next day, Jeremy and I went to see the Turner Prize Nominees at the Tate Britain. It was quite interesting watching how art can get "valued" and chosen over other art pieces.....


Simon Starling's ShedBoatShed won the Turner Prize this year....

which is good i guess? cuz it gives a nod to the more conceptual, less gallery-oriented art pieces being created today...


This is a picture of Darren Almond's video installation about his grandmother reminiscing on her life, and wishing she could get back to a certain time in her life...and dance....

it was really sad...i almost cried when i saw it...

You can see more information about the artists who were shortlisted for the prize here:
http://www.tate.org.uk/britain/turnerprize/2005/


The after that we went to the British Museum which has a shit load of stuff that they have stolen from other countries...

Like: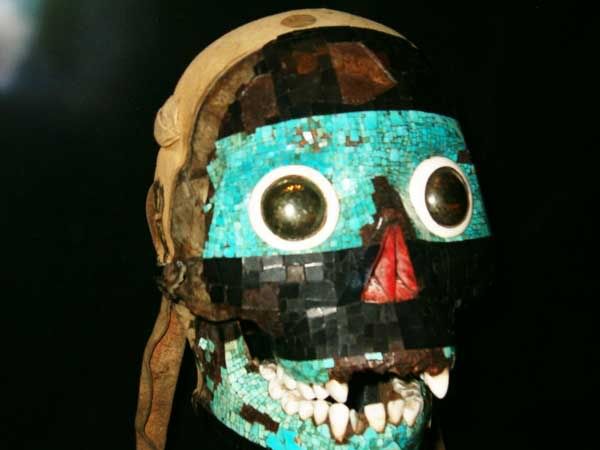 this skull they took from a grave in Mexico (i think it was from the Olmecan empire)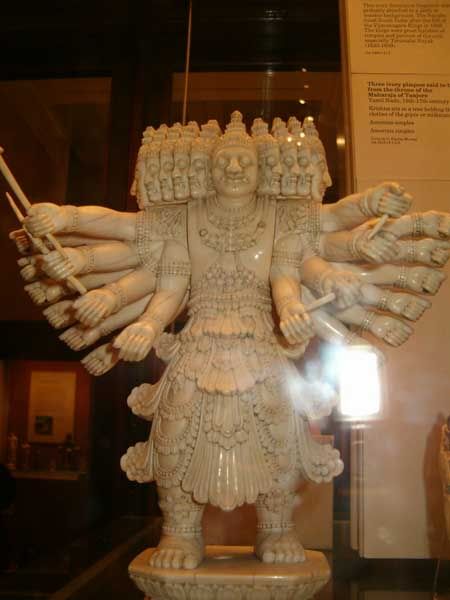 this super cool sculpture from Indonesia i think?



and this japanese evil spirit sculpture that reminded me of Dragon Ball Z!!!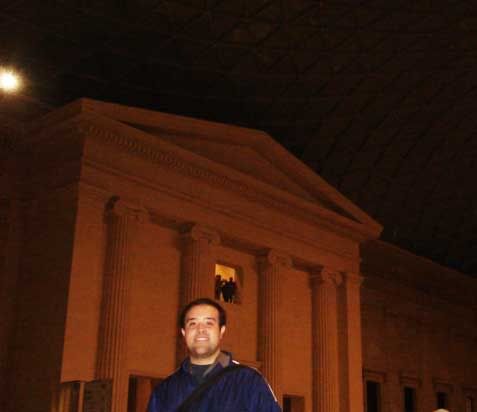 here i am inside this huge dome in the british museum......or i could just lie and say i was in Greece?!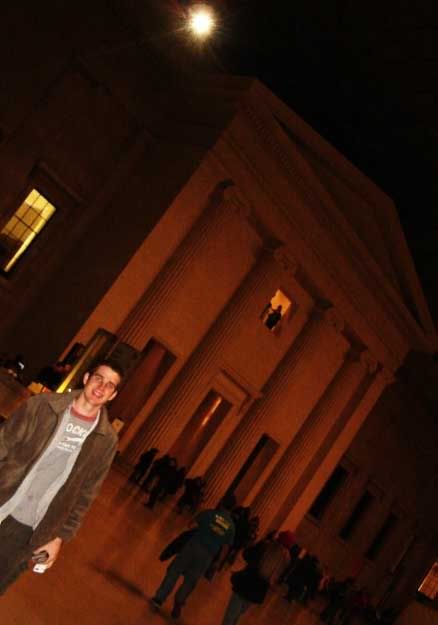 here's Jeremy in Greece!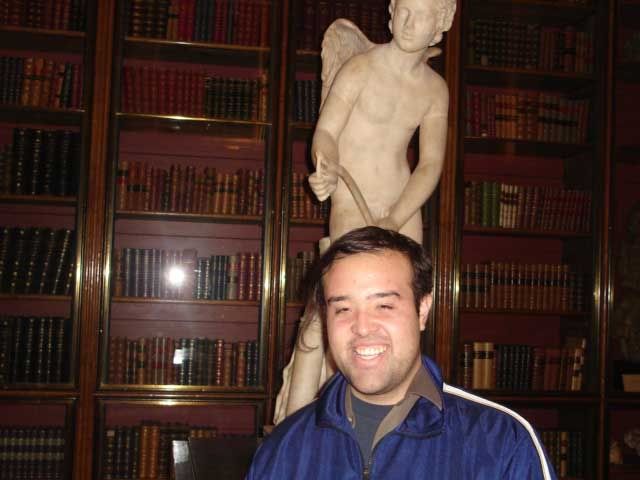 i took this picture in front of this cute statue that i know brian would go all gaga over, since he has a thing for fairies and little angel boys??? .....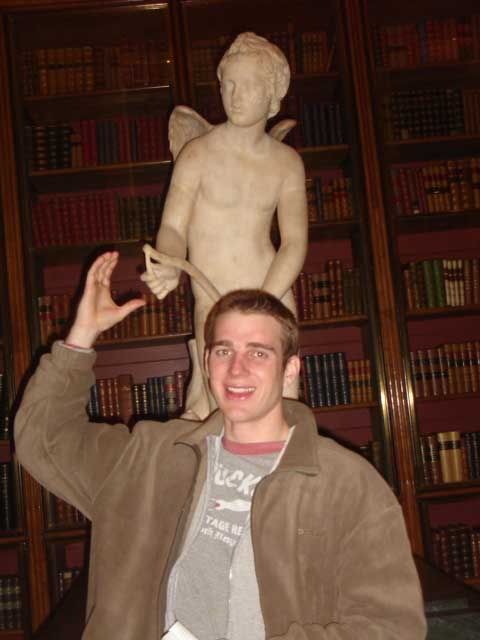 with that in mind, i asked jeremy to pretend he was fondling the little statue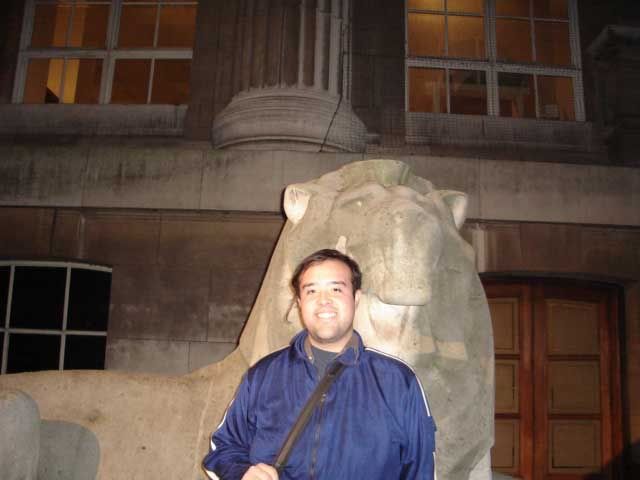 Here i am in AFrica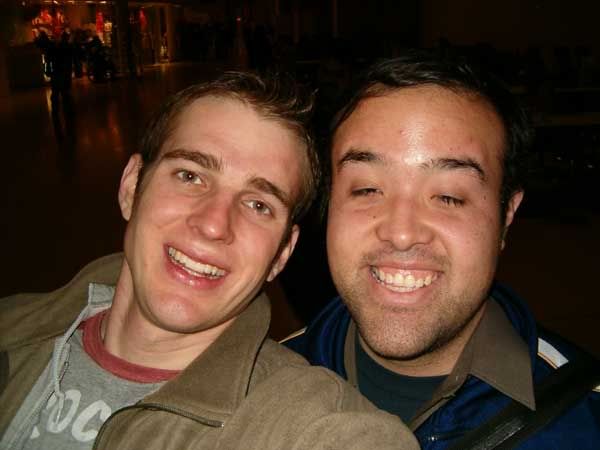 This was BEFORE Jeremy and I started drinking, so you can imagine how we looked after (those pictures are private by the way!)......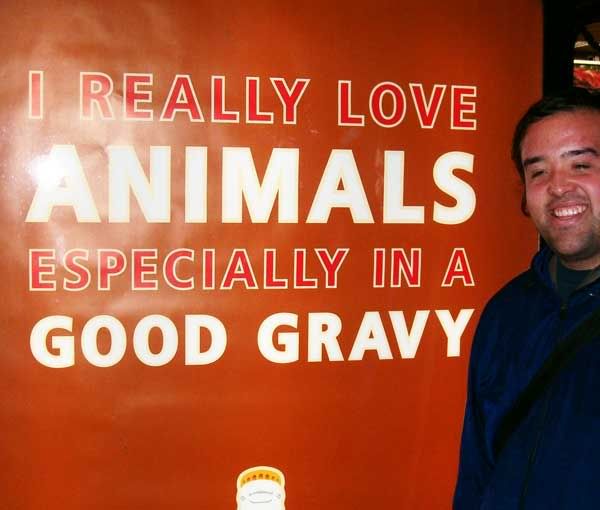 Jeremy made me stand next to this sign

so we almost got killed that night by these nigger drug dealers (long story)....and ended up running for safety into Jeremy's favorite pub in Camden ...and i tried Magners for the first time, which is an Irish Cider....and yes, i have become the biggest Cider whore this side of the Atlantic (pacific?).>>> .....the rest of the night's story will only be told on a one-to-one basis!!!

So the next day i went to the British Natural History museum.....and among other things saw: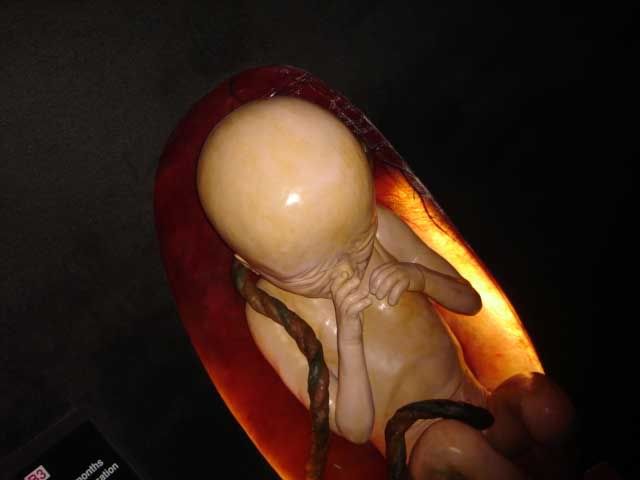 how babies are made....eew...........aka let's heteronormatize the world and overpopulate the planet so that other species have to die out for us to continue living in it.....hooray for forced sterilization!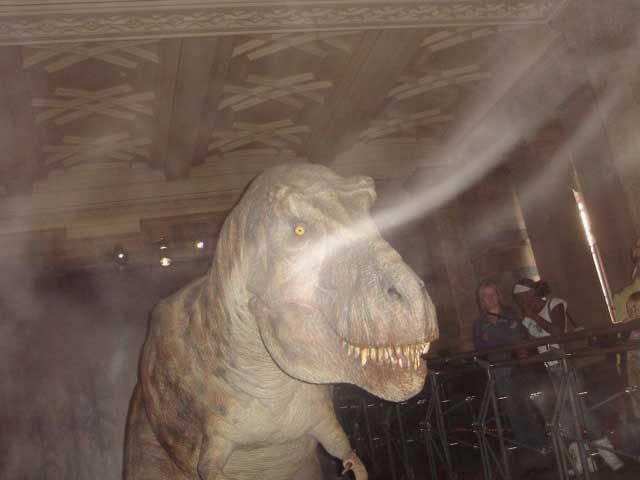 A T-Rex.!!! and i hid behind my hair to try to hide from it! but he saw me!

and it was actually less scary than african drug dealers! so i didnt' run that fast..

And then I saw the Jeff Wall retrospective at the Tate Modern!!!


it was really cute!



this one was my favorite one, its a guy mimicing an asian guy....!

people have even done that to me in my life-time!!! we should make one up for white people???? maybe squishing our eyes to make them bigger??? or carrying bottles of bleach aroun??


so since my plane left at 6am, and there was no way i could get to the airport at that time (the tube opens up at 5am i think, that and the airport was like an hour away)...I had to sleep at the airport!!! ...it was one of the worst nights of my life!!!

but too bad all these crazy european travellers pulled out sleeping bags, camping equipment, porta-potties, stoves, animals, children from their uteruses, work-stations, etc. from their backpacks and set up camp in the airport.....

But, soon enough, i was in BERLIN!!!
Phase two: Berlin 121305-121805
So, I arrive in Berlin and feel kinda scared because I realize that I can't read any of the signs, don't know how to get into the city and have all my shit that I'm lugging around...

but, thankfully i kept bumping into British people who helped me out....that and most young Germans speak English....

So, I leave all my stuff at my hostel, the East Seven Berlin Hostel...and the guy at the front desk is super cute, and super excited to speak to me in English! and he gives me maps of stuff to do...and leads me to my room...which is a 4 person bedroom (not private, so anyone could sleep there)....but, oddly enough it remained empty for three nights...so it was as if i had my own huge private room!

so...the guy at the front desk tells me to go to Alexanderplatz, which is like one of the big city centre exits....and from there you can see the huge TV tower (which i wasn't able to get a good picture of because it was always foggy!)....and there was a HUGE christmas market outside the subway stop. And let me tell you, Europeans (but Germans especially) love their Christmas markets....i could've sworn I saw like 20 of them! Christmas markets are like outdoor swapmeets that go on during the day and night, and you can pretty much get the following things at them:

Waffles (with chocolate, ice cream, cream, nutella (http://en.wikipedia.org/wiki/Nutella), caramel, etc!
Crepes
Apple Strudels (which are super good!)
grilled mushrooms with garlic sauce (which are also SUPER good!)
Thai food (?!)
Boots, gloves, hats, scarves, beanies
Wood trinkets
And a lot of sausages
oh and a lot of them sell candles?!

it's weird!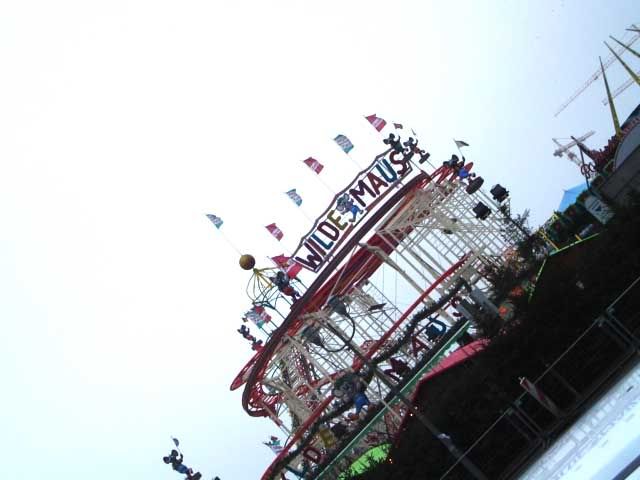 one of the markets even had a huge fair?! and i thought this roller coaster was cute!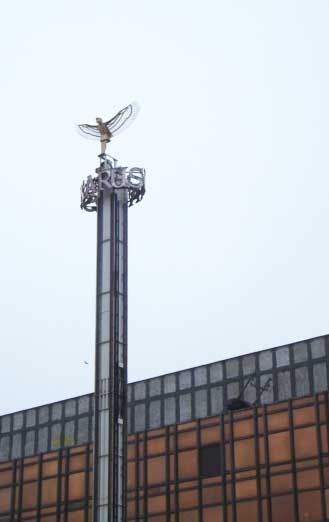 and look Brian, they had a huge Icarus (IKARASU!) statue?! I know you would've jizzed your pants if you would've seen it in real life! cuz i know your obession with Icarus(sp?)!

After that I wandered into the huge "museum Island"...which is this crazy piece of land with like 4 or 5 HUGE museums! The first one i went to was this one: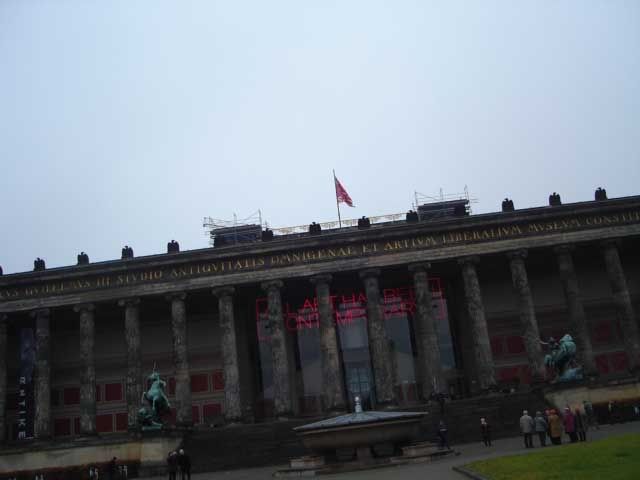 The Atles museum, which specializes in Greek artwork. It was pretty nice. Except i kept getting turned away...once for not having a ticket, then for having my bag with me, then another time because i wasn't supposed to bring my camera into the museum!

guh it got me mad!

Then, I go to the Berlin Guggenheim gallery and see the work of South African artist William Kentridge....it was pretty amazing. It pretty much consisted of an incredibly intricate stage he made with lots of small mechanical "actors" that would come out....(such as a lamp and a little cut out rhino)...and interact with music, lights, and movements. It was pretty amazing. Here's a picture from the website: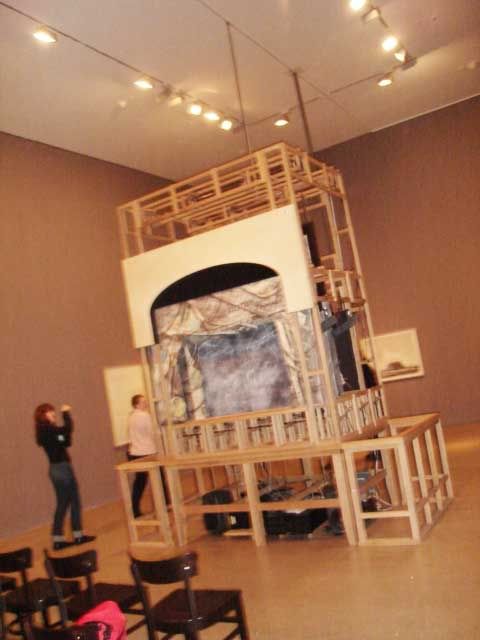 i took the last picture, and then the guy told me in German: "kleine blitz" which i think means: "no flash"....so it was the only picture I could take until then since as some of you know, my camera was broken.....(I later learned how to "fix" it whlie drunk!!!!!!)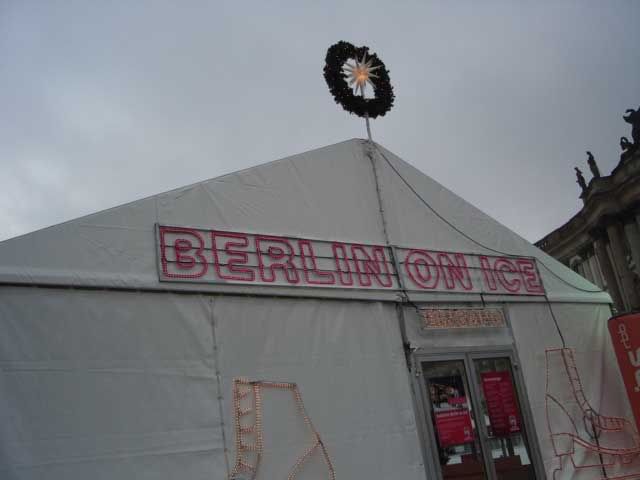 omg and this was at one of the markets, and i liked it!!!!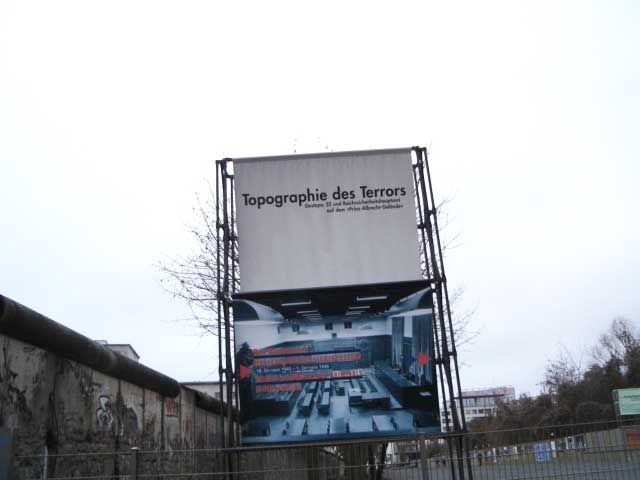 Then after that, by accident again, I found this exhibition on the Nazi occupation in Berlin, and it was like just outside...

and too bad it had parts of a Nazi hide-out, and it was like set right in front of pieces of the Berlin Wall!...it was crazy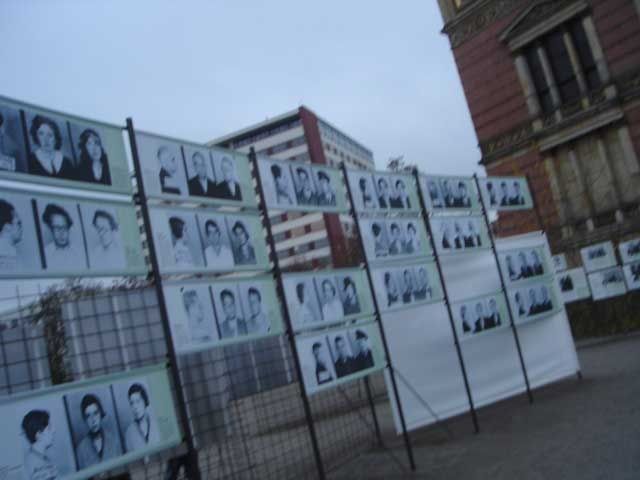 they had pictures of those who suffered because of the Nazis in Berlin......most of them were really cool scenesters who had been involved in the socialist movement some way or another...

i was hoping to see if they had any information on queers that were found and arrested in Berlin....but they didnt....

(that was to come later!)

Then it got dark, and i was super hungry so i started walking around looking for somewhere to eat....
And as I was walking around....I found one of the most amazing Thai food places I have EVER eaten at (NOT better than super or mix bowl though....it's tough to beat them!)!!! And too bad i was the person at the restaurant! The lady who worked in the front was super nice and she kept asking me how California was like. And i got this super good fried tofu that was BREADED! and the peanut sauce had a GRIP of peanuts in it ! and it was super thick!

and then, i found a super cute indie record store (one of the first out of like 20 that i ended up visiting...which is just one of the reasons i LOVE Berlin).....and I found the following flyer at the place: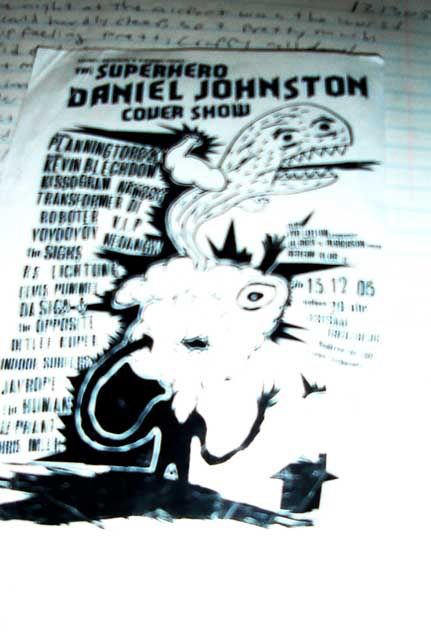 And, not knowing who Daniel Johnston is....I was going to quickly toss it, when I saw that they were going to have live videos by none other than Kevin Blechdom and Planningtorock!
so i just had to go!!!!



more on that later...

Then, the next day I went to one of the most amazing museums i have EVER gone to: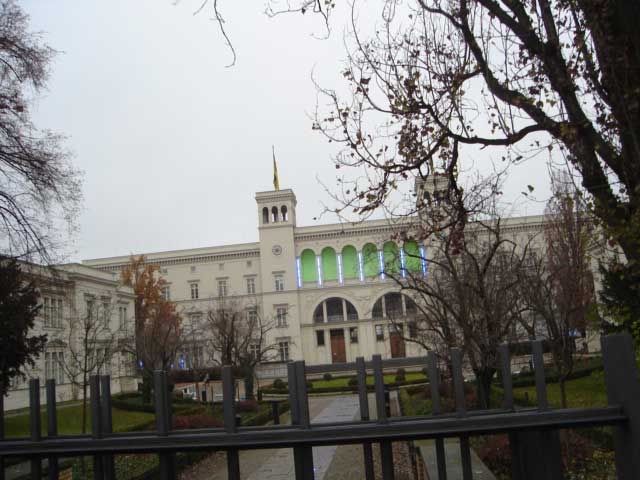 The Hamburg-Banhoff Museum!

I finally got to watch one of Matthew Barney's pieces (bjork's boyfriend): Cremaster Cycle 1.


It wasn't as professional looking as it looks in the pictures....but it was breathtaking nonetheless....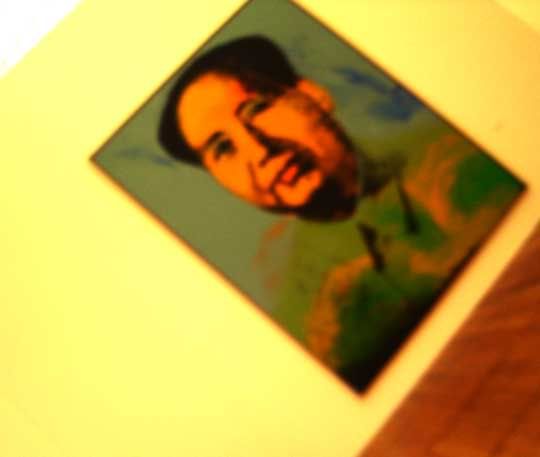 They had a huge Andy Warhol room.....with one of the biggest Maos I have ever seen!



And they had a whole section on Joseph Beuys.....which I felt incredibly priviledged to see.....

And if that wasn't enough for me to like almost die....

They had an exhibition called: "Almost Nothing" that was about minimalism....and it totally made up for the fact that i wasn't able to see the minimalism exhibition at the MOCA like 3 years ago...

That included:


George Brecht's incredible Water Yam fluxist box



On Kawara's One Million Years (past and future) books! I've wanted to see these for soooo long!!!



An original copy of John Cage's 4'33" performance/music piece.....!

And a lot of other amazing works that i can't find pictures of online....but....trust me...this was one of the greatest exhibitions EVER!

That day I found a super good vegan cafe and got this real good german lasagne/potato dish and an apple-kiwi juice!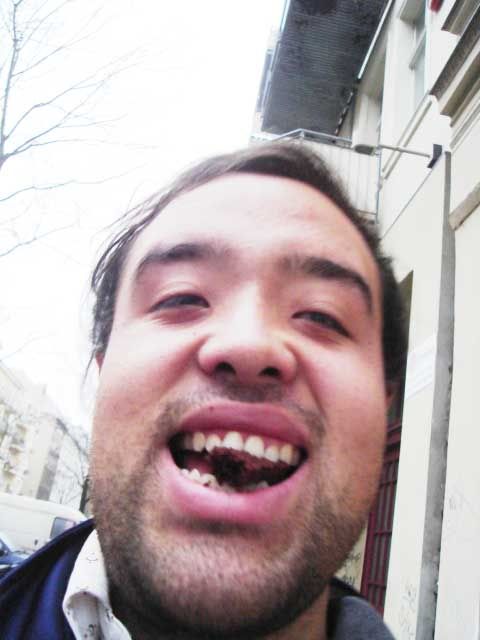 and then i got a chocolate cake afterward! and it was super good!

Then i went searching for this other gallery called the "KunstWerke" museum.....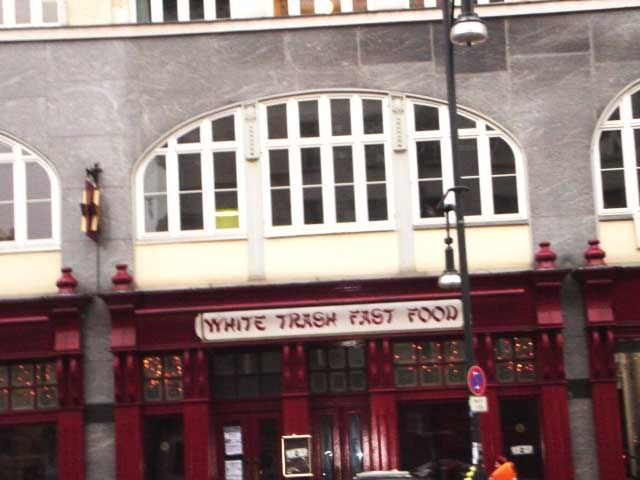 and saw this on the way lol

so i found the kunstwerke and it was an art office, not gallery?????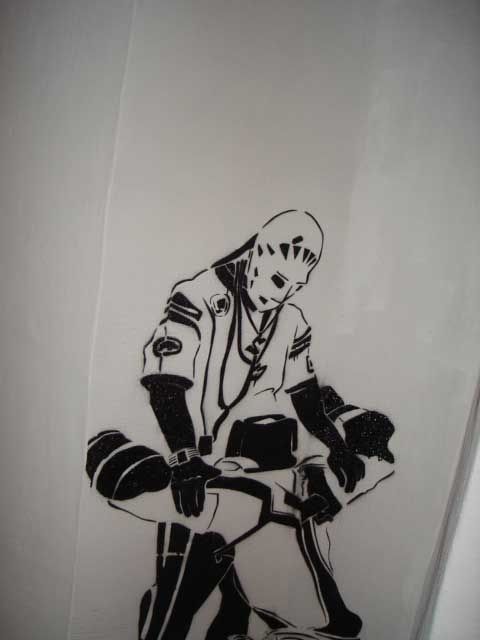 but the trip was worth it cuz i got to see this on the wall of another gallery! hot isn't it?!

Then at night, i went to this super gay Asian (or Oriental as us British people call it) restaurant...and it was like nothing but SUPER HOT Berlin queer couples eating...and i sat there alone with my newly purchased CDs...lol

eew....i'm such a loser

but anyway....i did eat some GADO GADO...which has become one of my new obessions!!!!!



Gado Gado is pretty much vegetables (it can be a lot of different kinds of vegetables) + fried tofu, mixed with this SUPER good spicy peanut sauce!!!!! i think it's indonesian. It kind of tastes like peanut sauce + refried beans + super good spices !!!!!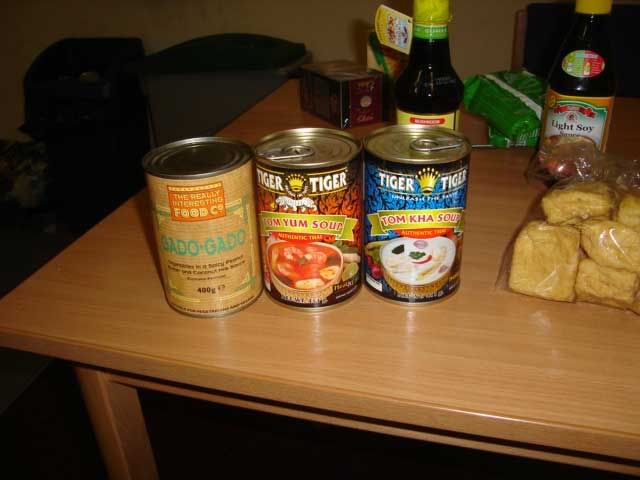 I first discovered it at an organic store that they have here in Leeds....they sell it in this can. And, i also found some vegetarian Tom Kha Khai and Tom Yum soup bases to make soup!! Oh and that's a bag of fried tofu on the right! you can buy it like that already fried and just add it to your stir-fries!!!

But anyway, at that restaurant (appropriately called the Rice Queen) I also had Lychee fried tofu!!!! it was fried tofu + vegetables cooked in a lychee sauce!
OMG I was in heaven!


alone, fat, going slightly insane with my new CDs...but in food heaven?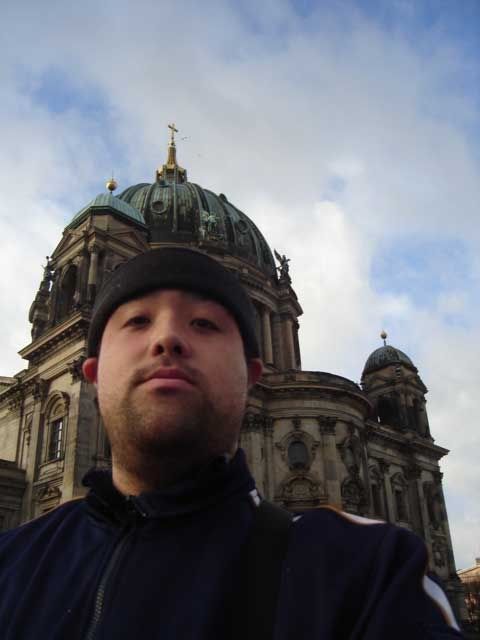 Speaking of which, here I am in front of the Berlin Dom....it's like a huge church.



oh and Berlin has it's own Anne Frank center. And i visited it that day. it was really moving. >>>>>>

oh and Jeremy was able to go to the Anne Frank House (the REAL one she stayed in during the time she was in the "secret annex") in Amsterdam.

So that day I went to three main museums. First the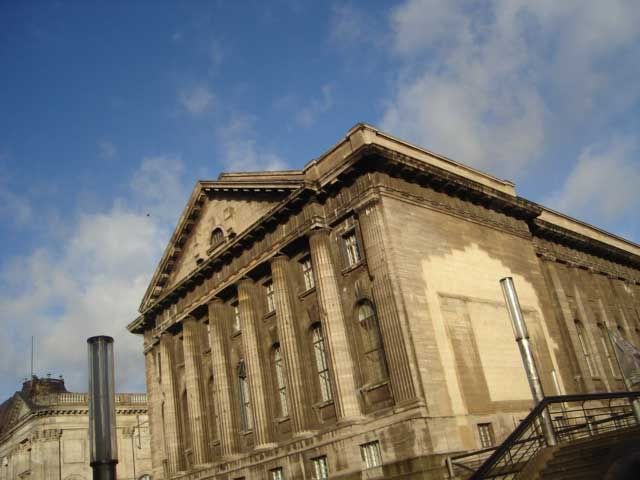 Pergamon museum in Berlin is on that aforementioned museum island....and it houses one of the world's biggest collections on Greek, Babylonian and Islamic arts...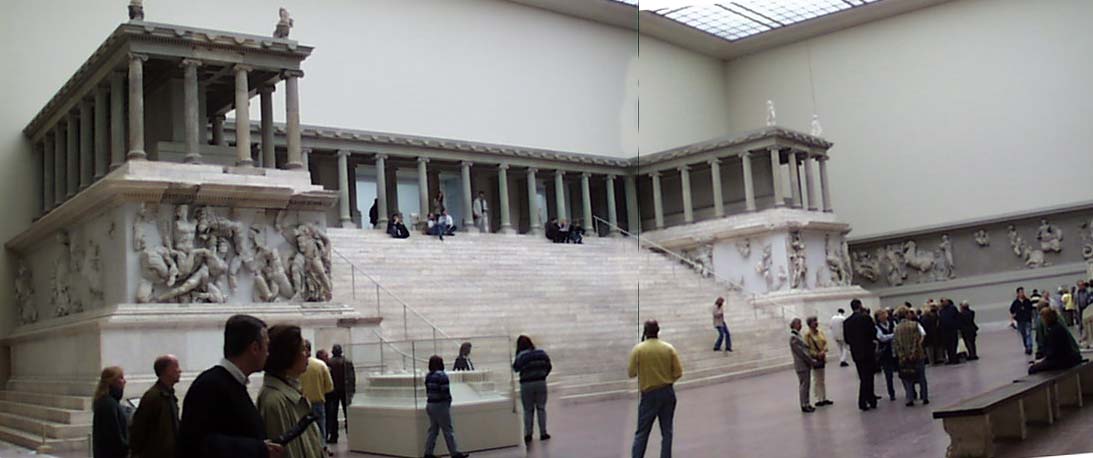 This in itself was worth paying the 4 euros to get in....it's a recreation of a temple...and you could even climb the steps and pretend you were Greek!! i sure did!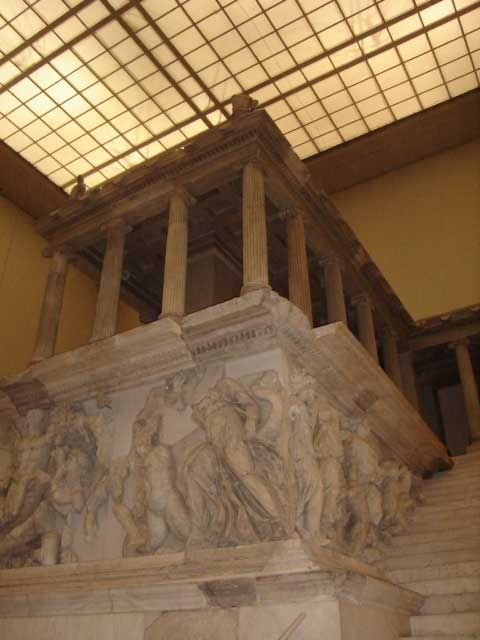 Here's a close up of the wall....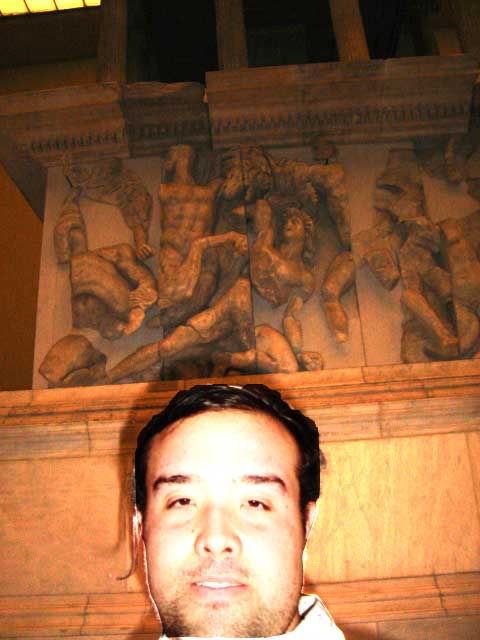 and here i am photoshoped in front of it.... (i'm trying to take/make more pictures of me in front of my things cuz my mom always complains that i'm never in any of my pictures....and guh there's a reason for that! )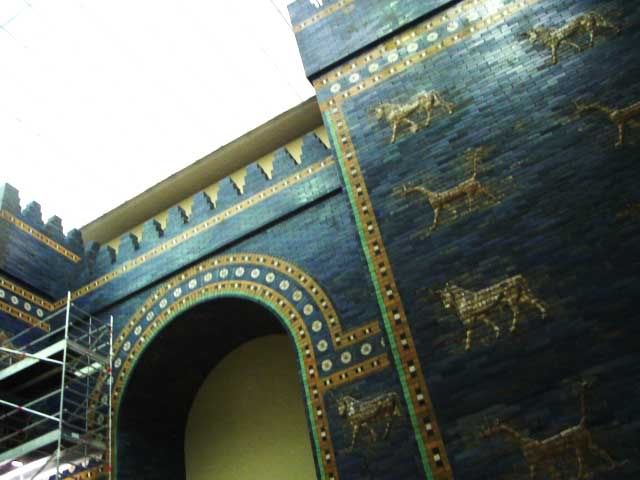 and omg, not only did they have that greek wall...but theis entrance into King Nebuchanedzzar (sp?)'s Babylonian empire!!!!!!!!!!!!!!! it was fucking insane....

Before going to find the other museum, i went walking and looking for STereo Total's record label in Berlin....(i got the address off the internet)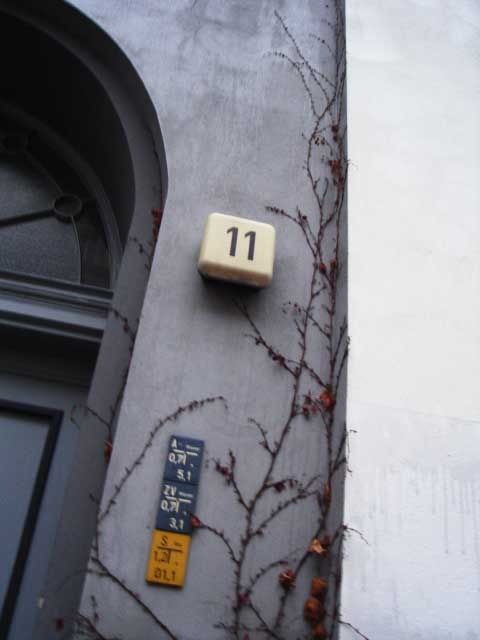 and this is what i found...a house. and i dont think their record label is that indie that it would work out of a house. I found chicks on speed records in Berlin (and no they didnt' have kevin blechdom/PTR records for some reason?!) and it was in a nice office bulding...and looked semi-profesional?

anyway then i went to the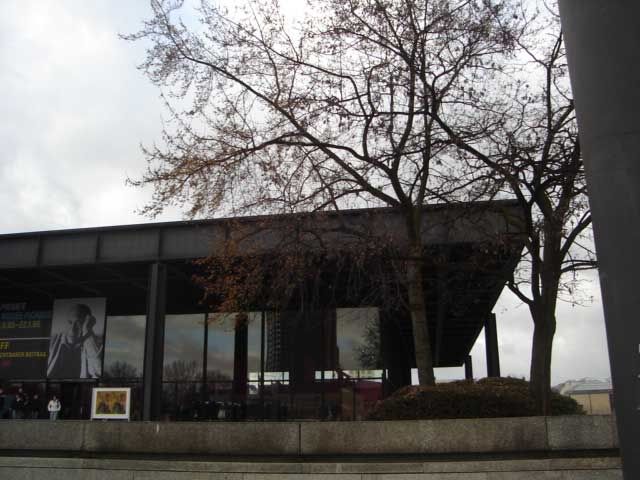 New Berlin gallery. and saw a retrospective on Picasso's work...and although i normally would hate to see something as boring and common as picasso....i actually quite enjoyed myself! and was really inspired by his artistic outpout...

Then I went to the Berlinische Gallery which is a gallery featuring modern/contemporary Berlin-based artists.
Highlights:



Ursula Neugebauer's Tour En L'air...which were 7 red dresses that would rotate adn stop at the same time. it was amazing

guh...and that's the only picture i can find!??

but there were a few other oens that were really good. i really liked this place too....although it wasn't as good as Hamburg-Banhoffffff of course!

Then that night I went to the Daniel Johnston show! and it was all in German, and this guy like spoke to the audience for like 20 minutes in German, and he kept burping into the microphone...(cuz he was pretty drunk)....and people would laugh at times, or clap, and stuff....and i felt sooo out of it

but then they showed this like hour long documentary on him (that of course was in english and NOT translated since of course all the german scenesters in there understood english)...and i found out who daniel johnston is:::


this is what he is mainly known for...one of his first tapes. "hello, how are you?" >>>>
Daniel Johnston was pretty much an art student, who became a musician, and started promoting himself by creating tapes of his music (which is actually very good!) and passing them out to people! He was oen of the first DIY kids!!!



this is how he looks like now. it's a kind of sad story because he was diagnosed with manic-depression...but after taking acid, he became a bit retarded....and now he's always on medication, and so he's pretty much out of it all the time....and he can't really write music anymore...

but he's pretty popular now...there's just been a CD released with different artists covering his music (including Bright Eyes, Death Cab, Beck, Guster, etc.) ....

and he's going to be in this year's Whitney Bienniale...whcih is amazing....for his comic-book-style artwork...

and then, Kevin Blechdom came on the screen after the documentary, and said that she was sorry taht she wanted to be there personally that night, but that she was stuck like in Spain or something....but her and PTR made a video covering his songs. So, each of them covered a song....and it was INCREDIBLE....

I have a video if anyoen cares to see it....i dont know how to put it on this though? so i'd probably have to e-mail it to you?

So next day: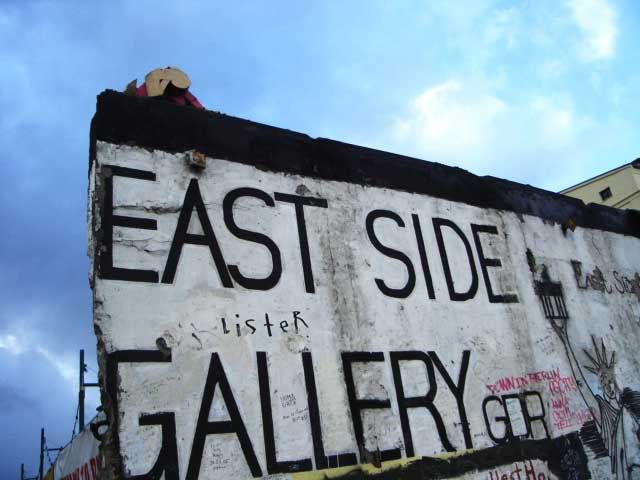 Went to the East Side Gallery...which is a gallery made on the Berlin wall......it was super cold as i walked around, although nevertheless it was incredibly moving to be able to see it!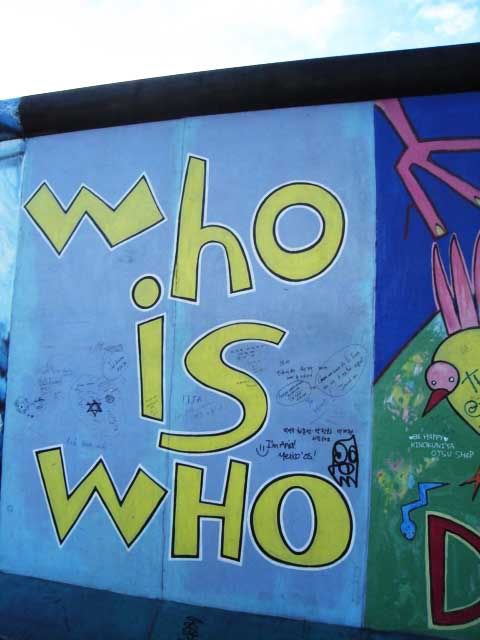 I have not yet been able to answer this profound question found on the wall...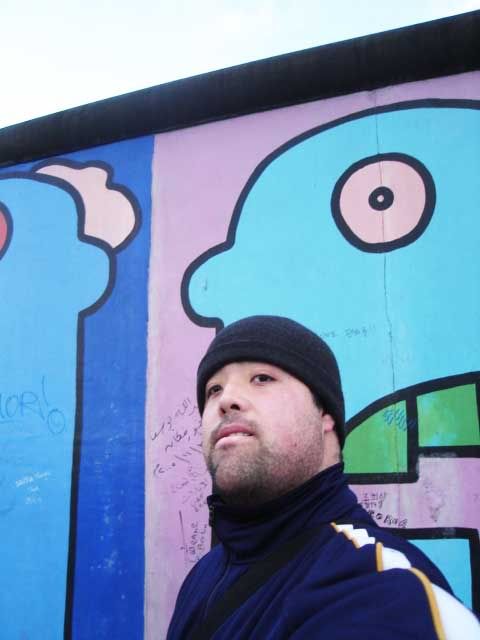 Here i am in front of my favorite piece!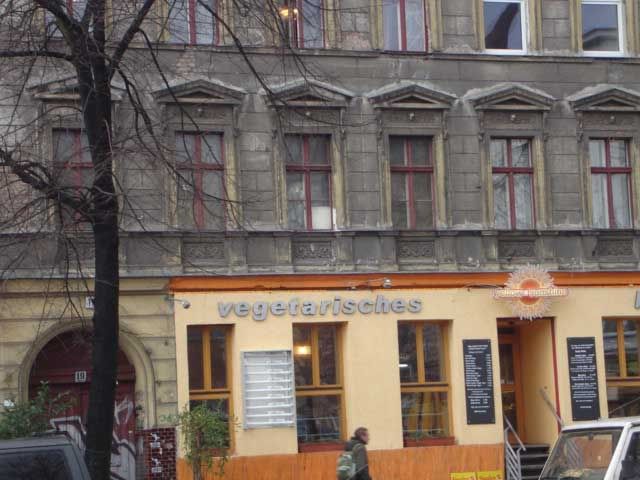 Then...i found "yellow-sunshine" one of the most amazing vegetarian restaurants ever! it's a burger joint! and i had their "fakin' fish burger" ...and it was soooooooooooo good! it was totally vegan, and had some vegan caviar in it, sprouts, a super good fried fish patty, and vegan tartar sauce!!! omg! it was one of the best burgers of my life!!!



and after i saw this lol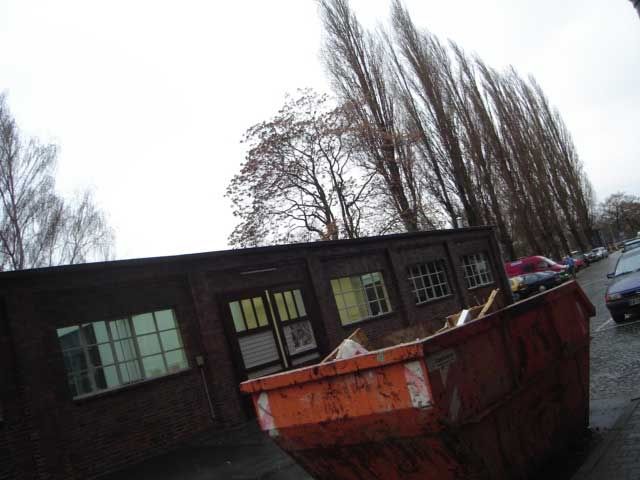 Then i went to Peres Projects...and it was pretty cheap. it was super small....but it was free....so i didn't feel too bad.

so then i spent a LOT of time looking for presents for people, and for GERMAN music!!!

And then the next day...(it was my last full day in Berlin)...

i bought some cheap shoes cuz my other shoes had gotten soaked. and were ripping!

and then i went to another AMAZING exhibition at the "Akademie der Kunst"....

it was called "Faites vos Jeux" ...and it was about art and play since dadaism...



....guh can someone say fucking art overload?!

So, highlights:



Hugo Ball and the Cabaret Voltaire reciting his phonetic poems (hence the music!)



a video of alexander Calder's incredibly DIY circus performances!!!



Carsten Holler's "Pealove Room" ...>>>a bed and two harnesses for people to make love on without touching the bed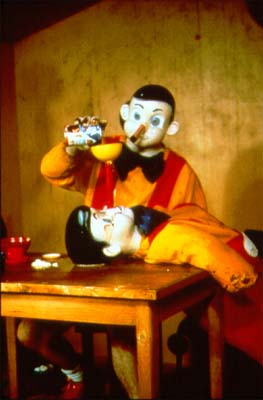 installation and video performance of McCarthy's Pinnochio Pipenhose Household Dilemma piece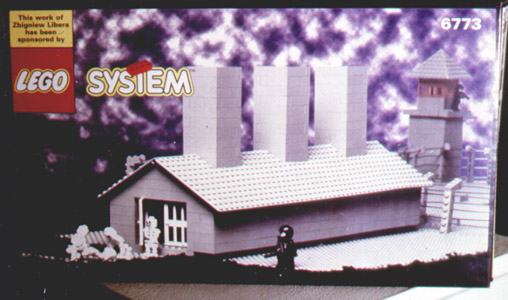 Zbigniew Libera's Lego Concentration Camp



Cindy Sherman's Untitled 419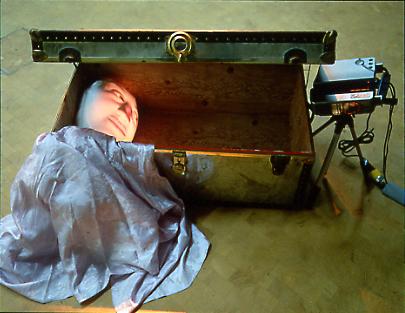 and finally Tony Oursler's Hello.

Oh, so by then, I had people living in my room. The first to come was this guy named Shin, who was from Beijing, but was studying biology in Germany. And of course he spoke english lol.

and then these two bitches from UCSD came....they had been studying in Spain...and just seemed really stuck up. but were somehow somewhat nice???

but the next day, this guy named Rich came to the hostel (he replaced Shin in the room), and he was super cool. he was from a small town in florida, and had decided to come to europe after saving up money. when we spoke about music he said:
"Oh i like some bands, but they're pretty unknown...you probably won't know them..."

me: "oh yea, like who?"

"Have you heard of like um...Joy Division, or ...the Smiths?"

lol...
so i guess he's from a real small town....

lol.


Oh, well anyway...after the Akademie der Kunste, I ended going to the Schwules Gay Museum. There I found information on the persecution of queers by Nazis...as well as an incredibly rich socio-historical perspective of queer history in Berlin. It was amazing!!!!



and i got this pin that means "gay thought!"

>>>>
so.....let me see....
I ended up going to this super amazing late-night market that had many DIY queer artists/craft-makers/designers/musicians come out and sell their stuff. There were so many amazing wallets, shirts, and stuff...that i REALLY wanted....but they were all super expensive!!!

So...to end my Berlin trip ...I'm going to show you guys just some of my amazing finds in Berlin!!!!!!

(and this does not include the presents i got for other people!!!)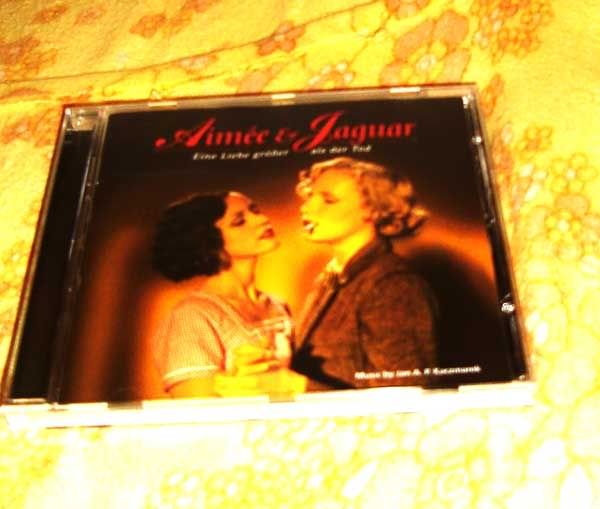 The Aimee & Jaguar soundtrack!!!!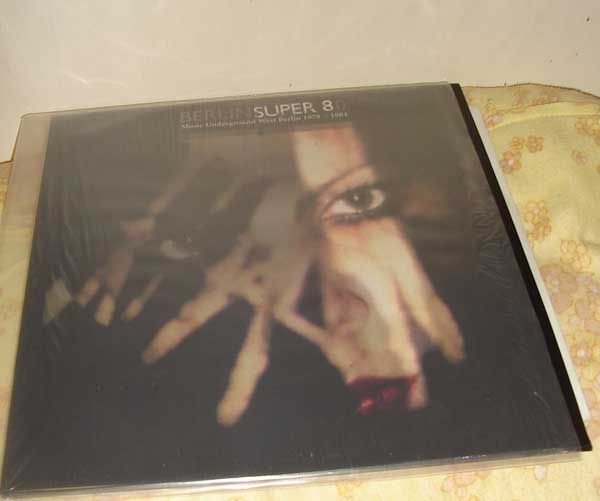 this amazing Berlin New/No Wave mix Record!!!!!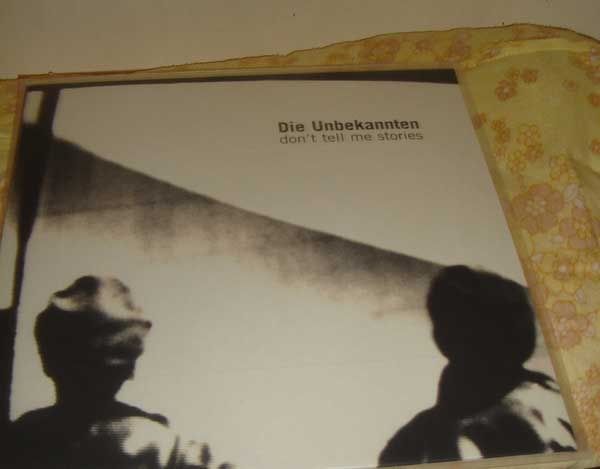 a Die Unbennkanten record!!! OMG i'd NEVER thought i'd find this band ANYWHERE!!!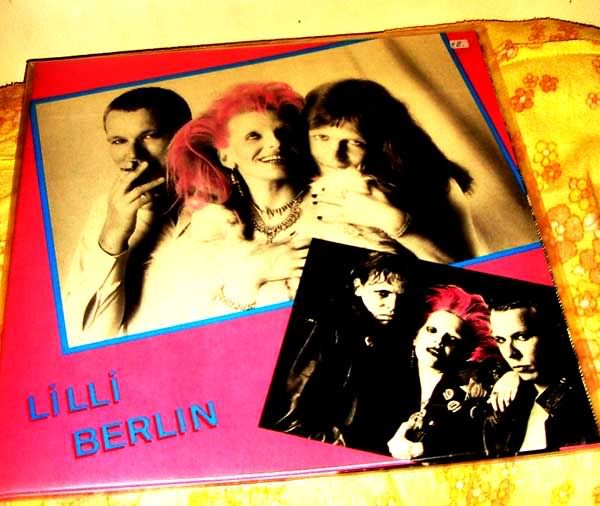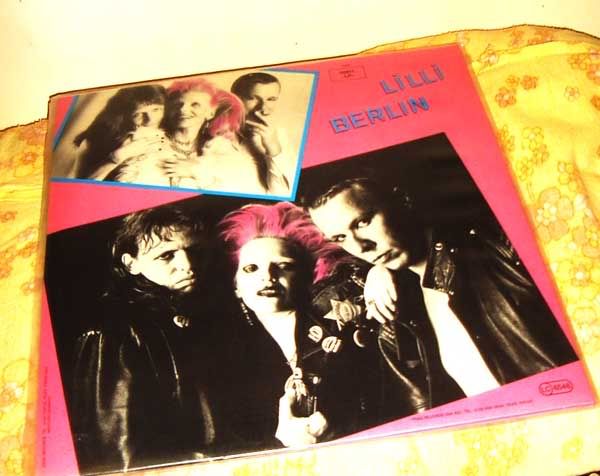 An incredible Lilli Berlin record!!!!!!!!! again, i'd never thought i'd find her music anywhere!!! isn't she beautiful?!!!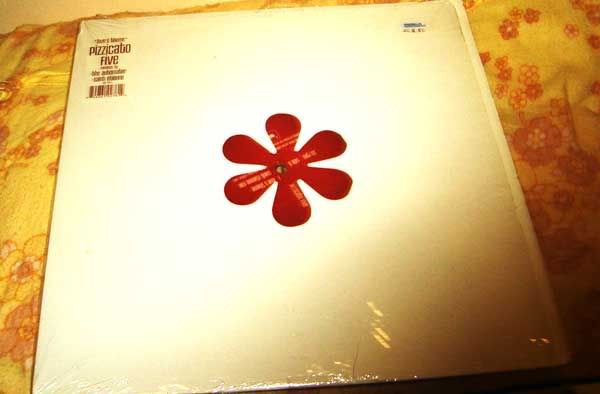 Pizzicato 5's Loves Theme (Saint Etienne) single ep on record!!!! it's my favourite P5 song ever!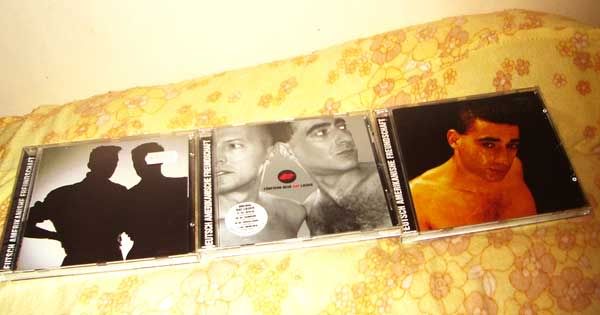 Three new Deutsch Amerikanische Freundschaft records..including a new one i didnt' even know existed?!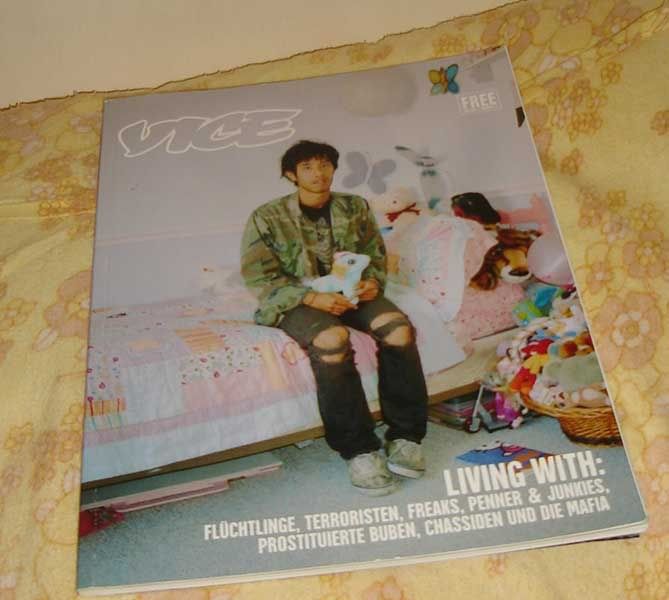 and last but not least, i got a free Vice in German!!!!!! lol


Alright, well thanks everyone who was actually able to get through this long entry......(either that or skipped through most of my boring text and just looked at the pictures)


to thank you...i have a surprise/christmas gift for everyone!!!!!!


Here are my Presents to you guys!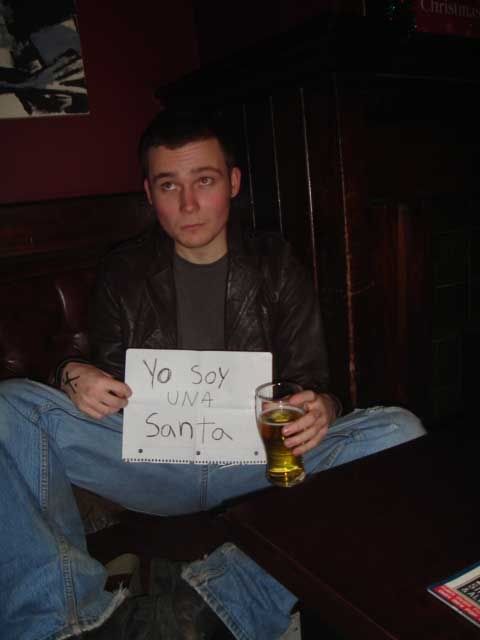 I've decided to not be mean, and give out this picture for free......

yea i know, you guys owe me BIG time!

Also, this has got to be one of the most exciting programs i've EVER downloaded!! (aside from the amazing soulseek!).....
http://www.videolan.org/vlc/
it's pretty much a media player that will allow you to play almost ANY type of file out there!!!!!!!!!!!!!!!!!!!!!!!!!


and just how exactly is this amazing?! ...

well, for one, you can now watch "international" as in (Region 2, region 4, 0 etc) DVDS on your computer through this player....which means you can suck "fuck off" to having to wait for your favorite movie is put into your country's region! ....so you KNOW i have started watching as MANY movies as I can here in the UK!!!!

so yea....hope everyone likes these two gifts!!! and if anyone, armed with this knowledge now, wants a UK based DVD...just let me know! !!!!!

oh and....
and last but not least......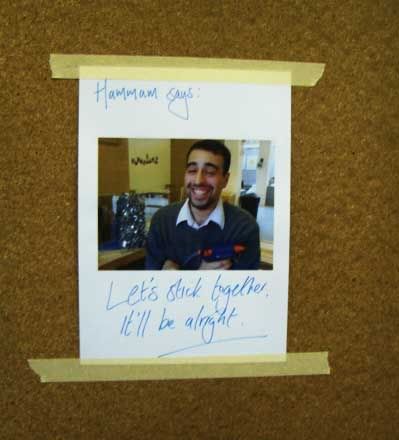 Hammam has an important message for everyone...that i think we should heed.


ps>>>>>next entry : Paris (aka Auschwitz) + New Years in London....+ an update on my situation in Leeds, including a story about me almost getting raped by a taxi driver?!!! yes! it's true!